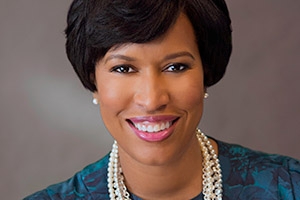 March 2
On November 4, 2014, SPA graduate Muriel Bowser was elected as the seventh, and only second female, mayor of the District of Columbia.
School of Public Affairs professor suggests breastfeeding may lead to important long-run educational benefits for children.
June 11, 2009

Johnston, Jacknowitz to lead nationally ranked programs in the Department of Public Administration & Policy.
June 8, 2009

Federal workforce more enticing for young job seekers according to research by AU School of Public Affairs' institute.
May 20, 2009
Success Story
Legally Blind MPA Student Supports Disabled Workers
Duilio Correa, SPA/MPA '13, credits his AU education with helping him become an analyst at the Department of Health and Human Services.
More Success Stories