On Campus
Film Screening Shows SOC, SIS Collaboration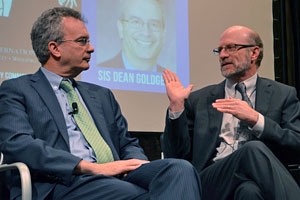 A screening and discussion of Dr. Strangelove or: How I Learned to Stop Worrying and Love the Bomb, a collaboration between the School of Communication and the School of International Service, is an example of cross-disciplinary cooperation that is embraced by AU. The screening was held as part of a series of events commemorating the 50th anniversary of President John F Kennedy's commencement speech on nuclear non-proliferation delivered at AU.
This event, and others like it, create an atmosphere that encourages students to reach beyond the curriculum provided by their schools and realize how their own expertise can be broadened through other AU offerings.
Following the screening, SOC Dean Jeff Rutenbeck and SIS Dean James Goldgeier each offered expert commentary on the film from his own perspective. Dean Rutenbeck spoke of the film itself and its relevance to the area of communications, while Dean Goldgeier elaborated about nuclear policy and diplomacy that were exposed in the film.
"That kind of dialogue where different people are bringing together their expertise on the same topic is a metaphor for the type of collaboration we are trying to accomplish between our schools," says CAS Dean Peter Starr, who attended the event.
"Helping our students understand the different perspectives that the different schools provide is a great benefit to their education," agrees Goldgeier.
This same sentiment has inspired new degree programs that span multiple schools and specialization areas to give students exposure to several facets in their field. SOC and SIS offer an International Media MA degree, and SOC and CAS have recently begun a persuasive gaming initiative together.
"The need for pursuing minors and dual degrees is especially true in communications," says Rutenbeck. "Much of what we do is practice-based, and we have amazing tools to document, express, and persuade. However, we need to have content, and the people who are going to get the most out of it are those who go beyond their subject matter expertise."
Cooperation also makes good business sense. In order to be competitive and successful as a university, making sure that students graduate with broad, cross-disciplinary knowledge and skills is a priority.
"Real world problems don't obey individual school boundaries," explains Starr. "If you want to work on climate change, you not only have to study climate change, but you have to know policy related to climate change, how to communicate the results of your scientific studies, or examine the possible business opportunities."
The effort that each school puts into creating curriculum that makes it possible for students to pursue many interests outside of one particular school is a priority. The deans meet with the Provost frequently to problem-solve and work on common issues and projects.
Rutenbeck, who is finishing up his first year at SOC, says this cooperation in particular stands out to him as a strength of the university.
"The high quality and collaboration between the other deans was an attractor that brought me here," he explains.