Research
The Power of Numbers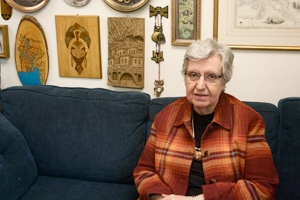 It's more than numbers that drive Professor Mary Gray—it's the worlds these numbers unlock when analyzed with a careful eye and with consideration of social realities. The professor of mathematics and statistics and former chair of the department has begun work with the American Bar Association to survey the massive communities of refugees fleeing into Jordan, Lebanon, Turkey, and other countries in the Middle East as a result of the ongoing civil war in Syria. This work along with her distinguished career as a lawyer, mathematician, and educator have earned Gray recognition as a Fellow with the American Mathematical Society. 
"A great deal of the work in statistics collection comes in designing the survey," says Gray. "Risk is the reason that many of those we are surveying left Syria. While the fear of immediate harm may have diminished, many still feel in danger. We have to design surveys with consideration for how we can acquire the most accurate answers." 
When the ABA received funding from the State Department to analyze the status of Syrian refugees it naturally turned to Gray to determine how best to implement this survey. "Surveying under difficult conditions is an entire subfield of statistics," says Gray. "We not only have to locate those surveyed, but we have to convince them to speak with us and ensure that they are drawing legitimate conclusions from their answers." 
Gray has specifically been studying the situation of Syrian refugees in Lebanon where there are no government-run refugee camps. The refugee camps that do exist are largely run by religious organizations. As a result, Gray and the ABA have worked to understand the organizations as well as the conditions of the refugees. "There are many things that it would benefit us to know about but are difficult for people of any culture to talk about," says Gray, referring to investigations into sexual assaults and other culturally sensitive crimes that have taken place throughout the conflict. "We have to be conscious of that and design the questions carefully." 
With the data she and the ABA collect, Gray knows it will be easier to bring the perpetrators of human rights violations, such as those occurring in Syria, to justice. "Without the data all you have is an opinion," says Gray. "If there is data it makes it easier to take action." 
Gray says this statistical analysis is not just important overseas but in Washington as well. She cites the recent decision by D.C. Public Schools to close several schools across the city. While the school system asserts that many of these schools are under-enrolled and underutilized, many Washingtonians say closing these schools will harm minority communities. "Unless you know something about the student body as a whole," says Gray, "you don't know what the impact is truly going to be. It is much easier to evaluate the fairness of a decision like this when you have all of the facts." 
Gray's use of math and statistics in the promotion of social change also extends to her own field. For Gray, it's not just the collection or analysis of data that is important—it's also about who is collecting it. "Traditionally the mathematical community was not very receptive to women in mathematics," says Gray. "There was a feeling that women could not do math or that they were somehow inferior. And while that feeling has drastically changed, there is still a great deal of work to do in this area." The discrimination Gray felt herself as a mathematician early in her career led her to found the Association for Women in Mathematics, for which she formerly served as president and now serves as legal counsel.  
Consistently recognized as a leader in the field, Gray has also been recognized as a Fellow with the American Statistical Association and the American Association for the Advancement of Science. The Committee of Presidents of Statistical Societies recently awarded her the Elizabeth L. Scott Award, an award for those working to create opportunities for women in the field of statistics. 
"While there is more acceptance of women in entry-level mathematical positions there is still a very strong 'glass ceiling' under which women are able to succeed, but women find it very difficult to be at the top," says Gray. "The data shows us that women still overwhelmingly bear the responsibility for childcare as well as caring for elderly parents. Improving childcare would do a great deal to help women succeed in math and science as well as other fields." 
According to Gray, quantitative training can enhance the skills of women and men in a variety of fields. "You need the numbers in order to truly understand the problems you are trying to solve," says Gray. "Especially for women, quantitative training can give them a key advantage in the modern workplace."