Achievements
AU Honors Philanthropists' International Vision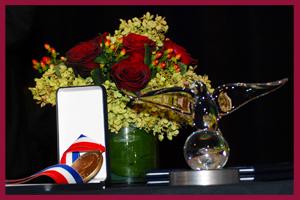 American University has selected Susan E. Lehrman, and Hani Farsi, who have demonstrated remarkable dedication to the university and outstanding achievements in furthering cultural exchange, as this year's recipients of its President's Award and Cyrus A. Ansary Medal, respectively.

The university presents the awards at its President's Circle Dinner, held the Thursday before Alumni and Family Weekend.

The President's Award recognizes a member of the AU community who has demonstrated outstanding commitment to American University through leadership and philanthropic support.

Susan Lehrman has made an indelible impact on American University through her imagination, passion, and generosity. Lehrman launched the Initiative for Russian Culture (IRC) in 2011, which she conceived in partnership with Russian Ambassador Sergey Kislyak and AU faculty.

Since its inception, the IRC has brought thousands of D.C. students together to discuss Russian history, culture, and politics, strengthening cultural understanding between Russia and the United States. Innovative programming has been a hallmark of the initiative, including film screenings at the Russian Embassy, a launch reception at the Library of Congress, and a trip to Russia to explore the work of Fyodor Dostoyevsky for 10 students. In addition to her support of IRC programming, Lehrman also endowed a Chair in Russian History and Culture in AU's history department to ensure the continued advancement of the initiative. Lehrman lives in Washington, D.C., and New York.

The Cyrus A. Ansary Medal is awarded to an alum, donor, or volunteer who has displayedextraordinary commitment and leadership, both within the university and within his or her profession; and who holds notable accomplishments, either in service to the university or for the benefit of the community at large.

Hani Farsi, an AU trustee and 1992 graduate of AU's School of International Service, has made exceptional contributions to AU, the arts and film industry, and the global community. In 2011, Farsi created the Mohammed S. Farsi Foundation Scholarship fund to bring college students from countries of the Arab Spring to study at AU for a year. The scholarship program enables Tunisian and Egyptian students to take lessons of intercultural dialogue and democracy building back to their home nations.

Prior to the scholarship, Farsi and his father established the Mohammed Said Farsi Chair of Islamic Peace in 1996, the first chair endowed at any university in the U.S. devoted to the study of Islam and peace, in the School of International Service at AU. In addition, Farsi has advanced intercultural understanding through the arts and hospitality in his professional work, and through the Mohammed S. Farsi Foundation, which he founded in 2009 to honor his father's life work. Farsi lives with his family in London.

Each year, the President's Circle Dinner pays tribute to American University's most committed donors who advance the mission of the university. In addition to recognizing the awardees, this year the event highlights the robust growth of campus facilities, exploring the concept of "Building a Better American University" throughout the evening.