Achievements
AP Offers Incredible Opportunities for New Graduate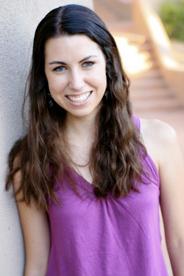 Lindsey Anderson, '12 BA, Journalism
Lindsey Anderson's story starts with a bang: she was the American University student offered an internship onstage by Associated Press CEO Tom Curley (now retired) at last spring's School of Communication commencement ceremony after her speech. She spent the past three months working in the AP offices in Boston, Massachusetts. Soon, Anderson will be starting work as a reporter for the Las Cruces Sun-News in New Mexico. Her ultimate goal is to be a foreign correspondent. With a high-profile internship and a job straight out of college, Anderson is on her way to becoming a successful journalist.
What did you do during your internship with AP?
I spent a few weeks each with writing and multimedia. With writing, I was basically a reporter on staff. I wrote about all sorts of things – from breaking news to general pieces. For example, I went on a refurbished crabbing vessel to tag great white sharks. With multimedia, I did photography and video. I tagged along with a videographer.
What did you like most about it?
Everything! It was great to be writing for the AP because it's not restricted in its reporting. It's the ultimate go-to for news, so it was intimidating but exciting to see where stories would get picked up. I was able to do and see so many incredible things, including watching the shark tagging and a skin graft surgery.
How did SOC skills and resources help you attain your internship?
I learned how to write well in SOC. I had the opportunity to speak at graduation. A lot of my professors had worked with Curley, so they put in a good word for me after graduation. The SOC professors have provided me with fantastic references.
What advice do you have for SOC students?
Get as much experience as possible in all sides of journalism. AP taught me that you must be both a good writer and a good reporter – they aren't the same. In addition to writing, you must know how to take pictures and shoot videos. Social media is also a critical skill.