Achievements
Prestigious Education Award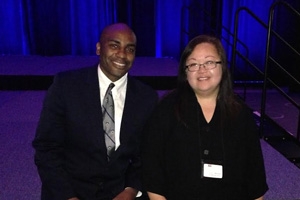 In 2013, Vivian Vasquez, professor of education at the School of Education, Teaching, and Health, marked her 30th year of teaching with high honors: she received the Advancement of People of Color Leadership (APCL) Award from the National Council of Teachers of English (NCTE), and a scholarship was established in her name.
The APCL Award recognizes a person of color who has made a significant contribution to the NCTE. The first Asian to receive this award, Vasquez is also the youngest. "The sustained and rigorous trajectory of leadership in Dr. Vasquez's work—including her ongoing mentorship, advocacy, and scholarship—speaks for itself about her commitment to the advancement of people of color within and beyond NCTE," said the nomination letter submitted by members of Indiana University's School of Education and Teachers College, Columbia University. 
The Early Childhood Assembly of NCTE went a step further and created the Vivian Vasquez Teacher Scholarship, to be awarded to an early childhood teacher or teacher researcher who honors the work of Vasquez by encouraging young children to be critical inquirers and activists for social change. 
"Throughout her career, Dr. Vivian Vasquez has advocated for critical literacy by supporting young children in deconstructing and reconstructing texts in their everyday worlds and situating inquiry within young children's rich repertoires of interests and practices, such as technology and popular culture," said the scholarship announcement at the Early Childhood Education Assembly General Meeting. "Dr. Vasquez's advocacy for teacher research conveys her perspective of teachers as professionals uniquely positioned to investigate and change classroom practices." 
Since the 1980s, Vasquez has been involved with the NCTE and has held various positions there, both appointed and elected. She represented the organization at the White House Summit on Early Childhood Education. 
Vasquez always knew she wanted to teach young children. "My desire to work with young children began when I was in elementary school, as I watched my mother working as a kindergarten teacher." 
Vasquez was teaching kindergarten while pursuing her master's degree. During a summer session class, she discovered critical literacy. "I met Dr. Barbara Comber and Dr. Alan Luke, renowned scholars in critical literacy. I realized what critical literacies could mean for my young students in terms of helping them to critically read the word and the world," she says. "They are able to make more informed decisions as participants both in the classroom and beyond." Ever since then, she has approached her teaching from a critical literacy perspective. 
She never planned on becoming an academic. But her career took a turn in that direction when the elementary school where she was teaching offered her an adjunct position to work with preservice teachers. Then Indiana University offered her a scholarship and fellowship, and she decided to take the plunge and complete her doctoral studies. 
"As a public school and preschool teacher, I engaged in research as a way of teaching," she says. "My transition into academia was therefore a fairly smooth one." After she received her PhD, she took a teaching position at AU. And she's been here ever since. 
Even with 30 years of teaching experience in public schools and at AU, Vasquez remains humble. "Mother Teresa once said, 'Not all of us can do great things. But we can do small things with great love.' In my life, I have been enriched by so many people who have shown me great love and support," she says. "These people have helped me to do the small things that I hope have made at least a small difference out there."