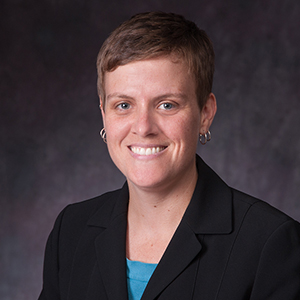 Jane Palmer
Professorial Lecturer
Department of Public Administration and Policy
Additional Positions at AU

Director, Community-Based Research Scholars program
Member, Sexual Assault Working Group
Member, Community-Based Learning Advisory Board

Jane Palmer has a Ph.D. in Justice, Law & Society from American University and an M.S.W. from the Jane Addams College of Social Work at the University of Illinois-Chicago. She worked for more than a decade in community-based organizations in urban, low-income communities. Before coming to AU for her Ph.D., she was the executive director of a domestic violence agency in St. Louis. She has also worked as a youth program manager and social worker for children and families.

Jane Palmer's interdisciplinary research focuses on gender-based violence prevention, help-seeking, legal/policy responses to gender-based violence and measurement/methodological issues in research on sensitive topics. Her dissertation was on bystander intervention in sexual assault and intimate partner violence situations on a college campus. She has been conducting campus surveys on sexual assault, dating violence and bystander intervention since 2011.

Prior to joining the AU faculty full-time, she was a post-doctoral associate at the Center on Violence Against Women and Children (VAWC) at the Rutgers University School of Social Work, where she was responsible for analyzing data from an experimental evaluation of a campus-based bystander intervention and sexual violence prevention program.

From 2010 – 2013, Dr. Palmer was a graduate research fellow at the U.S. Department of Justice's National Institute of Justice where she was on a small team of individuals responsible for designing and implementing a Congressionally-mandated program of research on violence against American Indian and Alaska Native women living in tribal communities in the U.S. She currently serves as a Technical Advisor on the National Baseline Study under this program of research, which is being implemented by American Indian Development Associates.

Courses taught:
Gender Violence & Public Policy, Child & Family Policy, Public Program Evaluation, Qualitative & Survey Research Methods and Community-Based Research.

Community activities: Board Member at DC Rape Crisis Center, Meal delivery volunteer for Food & Friends and Advisory Council Member at the Asian/Pacific Islander Domestic Violence Resource Project (DVRP).



Degrees

PhD, Justice, Law & Society, American University (with a second field in Public Policy);
MSW, Jane Addams College of Social Work at the University of Illinois at Chicago (with a concentration in children and families);
BA in Sociology from Smith College in Northampton, MA

Favorite Spot on Campus:

Bender Library, The Dav


Languages Spoken:

Spanish, English, Spanglish
Loading ...

OFFICE

SPA - Public Admin and Policy
Ward - 340
FOR THE MEDIA

To request an interview for a
news story, call AU Communications
at 202-885-5950 or submit a request.
---
Teaching
Fall 2014

HNRS-196 Selected Topics:Non-Recurring: Community-Based Research Lab

HNRS-302 Honors Collqm in Social Sc: Soc Construction of Childhood
Spring 2015

GNED-140 General Education Area 4 Topic: Community-Based Research
Scholarly, Creative & Professional Activities
Selected Publications
McMahon, S., Palmer, J., Banyard, V., Murphy, M. & Gidycz, C. (accepted for publication). Measuring bystander behavior in the context of sexual assault prevention: Lessons learned and new directions. Journal of Interpersonal Violence.
Palmer, J., Renner, L., Goodman, L. & Dutton, M.A. (in press). Does type of child risk affect whether mothers seek assistance for intimate partner violence from civil or criminal court? Violence Against Women.
Walton, M.J. & Palmer, J.E. (2014). Legal considerations regarding sexual assault victims' right to an advocate. Sexual Assault Report, 18(1), 1-16.
Savage, J., Palmer, J. & Brooks, A. (2014). Intergenerational transmission: Does physical abuse have a unique and specific relationship with violence? Journal of Family Violence, 29(7), 739-748
Palmer, J. & Chino, M. (2014). Violence in American Indian and Alaska Native communities.  In C.A. Cuevas & C.M. Rennison (Eds.), The Wiley-Blackwell Handbook on the Psychology of Violence.  West Sussex, UK: Wiley-Blackwell.
Crossland, C., Palmer, J. & Brooks, A. (2013). NIJ's program of research on violence against American Indian and Alaska Native women. Violence Against Women, 19(6), 771-790.
Palmer, J. (2013). Conducting a web-based survey about sensitive topics with a random sample of college students.  In Brindle, P. (Ed.), SAGE Cases in Methodology.  Thousand Oaks: SAGE.
Palmer, J. (2012). Native Americans and sexual violence.  In J.L. Postmus (Ed.), Sexual Violence and Abuse: An Encyclopedia of Prevention, Impacts and Recovery.  Santa Barbara, CA: ABC-CLIO.
Palmer, J. (2012). Sexual assault in Indian Country and the Tribal Law and Order Act.  Sexual Assault Report, 16(2).