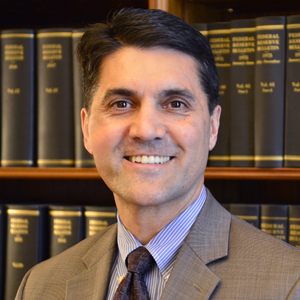 Andrew Rahaman
Sr Adjunct Professorial Lecturer
Department of Public Administration and Policy
Dr. Rahaman has extensive international leadership experience that includes successfully leading teams in developing technical and managerial programs; sustaining innovation; developing partnerships across diverse cultures; developing executive coaching, and leading and developing his own teams. Andrew's professional experience includes extensive overseas travel and in addition to the U.S., he has lived abroad in Germany, England, China, Canada, Mexico, and Trinidad & Tobago. Andrew partners with organizations in developing growth strategies for improving business performance and building results based culture by developing leadership capabilities through action learning, understanding organizational culture and performance based coaching. His career has included the Federal Reserve Board, State Department (Diplomat), and the Department of Defense over 25 years.

Andrew is an adjunct staff member for the Center for Creative Leadership (CCL®) in Greensboro, North Carolina, and has a private practice in organizational growth, coaching for performance, leadership development and assessments. Andrew is an adjunct professor at American University Master's Program and in the Key Executive Leadership Certificate Program. As an executive coach, Andrew believes in a proactive, goal oriented approach fostered in a collaborative one-to-one relationship that is highly tailored to the individual, focused on real-time issues and integrates organizational context. Andrew's executive coaching focuses on high performance leaders who want to achieve an expanded self-awareness and perspectives into their own capability, leverage their leadership style or learn new ones to develop and integrate teams to move organizational performance forward. Andrew has worked with executives who have or are preparing to take more senior leadership roles, transitioning to a new position, have a desire to change their leadership style to a new context and those who want to enhance their own effectiveness by creating their unique leadership brand.

Andrew's diverse educational background includes; a doctorate (Ed.D) from The George Washington University where he focused on organizational and culture change, leadership development and increasing the leader's capability to operate in complex, changing work environments through action learning. His dissertation was on "The Influence of an Action Learning Process on Transformative Learning and Leadership Behavior in a Government Agency" (ProQuest LLC, UMI Number 3557500). He has a M.S. in Environmental Science and Engineering from the University of Texas in Dallas. Andrew completed The Georgetown University's 6-month Leadership Coaching Program and their Executive Leadership certificate program. Additionally, he is certified in the use of assessment tools, including the CCL's 360 instrument, MBTI/FIRO-B, Workplace Big Five, Denison Culture Assessment, and is being certified as an Action Learning Coach through the World Institute of Action Learning.

Andrew holds several professional certifications, such as the Senior Professional Human Resources (SPHR) and Global Professional Human Resources (GPHR) as well as being a Certified Business Continuity Planner (CBCP) and Certified Industrial Hygienist (CIH). Andrew is a current member of Society of Human Resource Management (SHRM), Human Resources Certification Institute (HRCI), American Society of Training and Development (ASTD), Disaster Recovery Institute (DRI) and American Board of Industrial Hygiene (ABIH).
Loading ...

FOR THE MEDIA

To request an interview for a
news story, call AU Communications
at 202-885-5950 or submit a request.
Teaching
Summer 2015

PUAD-050 Leadership in Chngng Workplace: Leadership in Chgng Wkpl EML2

PUAD-057 Managing Organizational Trans: Managing Org Trans DHS 44

PUAD-650 Leadership in Chngng Workplace
Fall 2015

PUAD-652 Facilitation & Team Developmt
Spring 2016

PUAD-050 Leadership in Chngng Workplace: Leadership/Chgng Wkpl EML4

PUAD-050 Leadership in Chngng Workplace: Leadership/Chgng Wkpl EML5

PUAD-654 Organization Diagnosis & Chng