Questions?
Key Executive Leadership MPA Program
(202) 885-3857
Fax: (202) 885-1176
key@american.edu
Watkins Building, Room G10


Jennifer Tether
Academic Coordinator

Mailing Address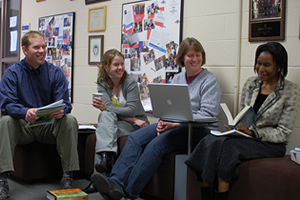 In the Key Executive Leadership Programs, the word "cohort" refers to an integrated community of learners who take a prescribed sequence of courses in unison and work together in a collegial environment. 
The Key cohort experience develops a supportive environment that enhances students' self-awareness, substantive knowledge, and skills; promotes continuous learning, reflection, and personal change; and encourages student networking and team building.
Cohorts in both the MPA and Certificate programs are capped at twenty students. Key offers two cohort scheduling options:
Program Start   


Duration        

Meets
Fall


22 months

2 weekends (Fri-Sat) per month
8:30am-3:30pm
See the cohort model in action.
Programs
The Key Executive Leadership Programs train senior-level federal executives and managers for increased leadership positions. Explore our two primary program offerings:

96
%
of Key graduates state that the program played an important role in their professional success