Government & Politics
Roger Jones Award Keynoter: "Government is Cool"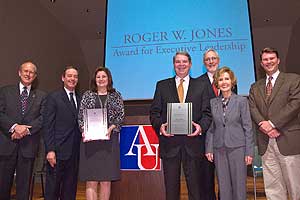 Two federal executives were honored for their leadership in the face of the worst financial crisis since the Great Depression, Oct. 27, during the School of Public Affairs' (SPA) 32nd annual Roger W. Jones award ceremony.  
Linda Stiff's team organized "Super Saturday" in 2008, collaborating with 365 IRS partners to host 600 events across the country aimed at helping low-income taxpayers. The deputy commissioner for service and enforcement, Internal Revenue Service (IRS), was recognized for her role in the distribution of payments issued under the Economic Stimulus Payment legislation last year.  
Stiff, who's held all three top IRS positions during her 30-year career, received the award just weeks shy of her retirement.  
"The best part of leadership is being able to see the best in the people we serve . . . and to give the best to the people we serve," she said.  
Gene Dodaro, acting comptroller general of the United States, U.S. Government Accountability Office (GAO), was honored for the 1,400 improvements to government programs made under his watch last year. The changes created about $58 billion in financial benefits.  
"Public service is a noble profession, and I'm proud to be a part of it," said Dodaro of his 36-year career with GAO.  
According to David Walker, former U.S. comptroller general, and chair of the Roger Jones selection committee, this year saw a record number of nominees from across the federal government, "but these two rose about the pack."  
The celebration of service culminated with an address by John Berry, director, Office of Personnel Management (OPM), who detailed four new initiatives aimed at "attracting, motivating, and retaining" top civil servants, including fresh college graduates. Undertaken at the behest of President Barack Obama, who tasked Berry with "making government cool again," these initiatives include:  
•    Placing more veterans in domestic civil agencies, where they currently comprise only 5 to 20 percent of personnel. Berry, who hopes to unveil the new hiring process by Veteran's Day, advocates taking a "head-hunter approach to attracting veterans" and pairing them with mentors.  
•    Increasing hires of Presidential Management Fellows (PMF) fourfold. Berry plans to "reenergize the PMF program," and also create new pathways to federal service for college students, including a summer internship track.  
•    Revamping the application process to make it more user-friendly. Berry will abandon knowledge skills essays and clunky, 20-page applications and adopt a résumé system—likely before the holidays. "If a résumé system works for everyone else, it can work for us, too."  
•    Promoting flexible work schedules and telecommuting. "It's time to get rid of the clock," said Berry, who advocates results-oriented management. He doesn't care if the work gets done at 11 p.m. or 7 a.m., "so long as it gets done."  
Berry said he hopes the reforms will attract fresh, young minds to federal service. "Even after all we've accomplished, the best days of our country are yet to come," he said. "I hope that we can build systems that continue to draw the best and brightest in our country."