In the Community
Leadership Students Lead Neighborhood Hurricane Cleanup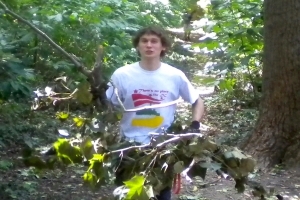 Leadership students led AU students to clean up a neighborhood park damaged by Hurricane Irene in late August.
On the first week of fall classes, Leadership students Joe Wisniewski ('14), Tyler Sadonis ('14), and Stephen Bronskill ('15), gathered representatives from several student groups including both College Democrats and College Republicans, EcoSense, and the Community Service Coalition. Working together the ten students cleared downed branches from trails and picked up trash in nearby Spring Valley Park "Within an hour we had made a significant contribution," said Wisniewski. "I couldn't have asked for more!"
He was overjoyed that the students took the time out of their busy class schedules and with such short notice to help beautify the neighborhood. Everyone had a great time getting to know each other, helping AU'simmediate neighborhood, and spending time outside.