Achievements
President's Award Winners Lauded for Scholarship, Service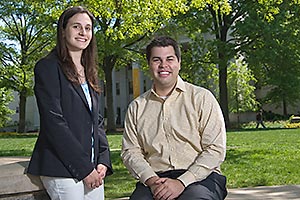 Each year, AU president Neil Kerwin selects a single student who exemplifies the American experience to receive the President's Award at commencement.
This year, Kerwin made a double selection — deeming two exceptional seniors, Seth Cutter and Allison Gold, worthy of the university's highest honor. Intellectually curious, academically driven, and community minded, Cutter and Gold have left an indelible mark on the campus community.
Selected from a competitive pool of nominees, they have a great deal in common. Both are political science majors in the School of Public Affairs; each has maintained a stellar GPA; each has managed a variety of extracurricular activities; and between them they boast 10 internships.
Cutter served as student trustee to the AU Board of Trustees during the 2009–10 academic year and was active in student government, including serving a year as its president. Gail Short Hanson, vice president of Campus Life, noted that Cutter is "among the most impressive leaders I've worked with over a 35-year career in student affairs." His significant accomplishments as a campus leader include helping to establish an African American studies major in the College of Arts and Sciences and creating a funding proposal that enables performing arts clubs to use AU's venues at subsidized rates.
A talented musician and member of the SPA Leadership Program, Cutter's four internships included the Department of Homeland Security and the National Association of Regional Councils. He graduates with a 3.7 GPA and a second major in philosophy in the College of Arts and Sciences.
Cutter plans to attend the University of North Carolina–Chapel Hill for a master's in public administration before heading back to his native Kentucky, where he hopes to work in regional affairs and city management.
Pennsylvania native Gold took an interdisciplinary approach to her studies, melding her interests in environmental advocacy, government, conflict resolution, and the Middle East. She traveled to the Negev desert in Israel where she studied rainwater harvesting and wastewater management. In April she presented this research to the American Society of Civil Engineers.
"Alli . . . has clearly identified her passion and is pursuing it with zeal and purpose," said Margaret Marr, director of the SPA Leadership Program, in which Gold took part. "She exemplifies what is best about this institution, using disciplined, dedicated scholarship to find solutions to difficult and real human problems."
Gold, who minored in environmental studies and Israel studies, held six internships at such institutions as the Environmental Protection Agency and the U.S. State Department. A member of the University Honors Program, she graduates with a 3.86 GPA and plans to stay in Washington, pursuing a career in environmental or Middle Eastern policy.
Cutter and Gold will receive the prestigious President's Award during AU's 124th commencement ceremonies, May 8–9.