In the Community
Sophomore Unites Students around Service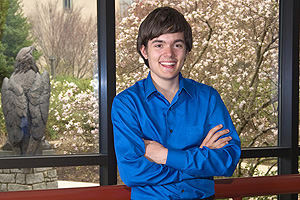 It began — as many great ideas do — as a scribble on a napkin.
Sophomore Stephen Bronskill was headed back to AU from a leadership conference at the U.S. Naval Academy in Annapolis last year when inspiration struck.
"I started thinking about this notion of shared sacrifice . . . I have a responsibility to give back for all the opportunities I've been given, and I would love to empower others to do the same," said Bronskill, 19, a student in the School of Public Affairs Leadership Program.
And with that, the Community Service Coalition was born.
Bronskill turned his napkin musings into a grant proposal, landing $700 in seed money from the Eagle Endowment, a student-run fund that finances AU service projects across Washington.
With the help of a 15-person service team, Bronskill began reaching out to each of AU's 200 student clubs, brainstorming ways to bring groups together for service projects. One of the most successful programs to date, the 9/11 Week of Service, brought together College Republicans and College Democrats for a blood drive and tree planting. The group also placed flags — one for each of the 9/11 victims — on the quad.

"Our goal is to unite the campus community around service," said Bronskill, an environmental studies and political science major. "People may think they're disconnected, but there are many cool opportunities for collaboration."
Since April 2010, the Community Service Coalition has hosted more than 60 events, which have drawn 1,000 people for 4,000 hours of service — feeding the homeless, registering voters, and more. The coalition includes 40 student groups; Bronskill anticipates more clubs will join in the fall.
"We all care about different things, but we're all moving in the same direction," said Bronskill, who has his sights set on Teach for America or the Peace Corps upon graduation. "I think we all want to leave the city better than we found it."