Achievements
AU Misses & Misters Shine at D.C. Pageants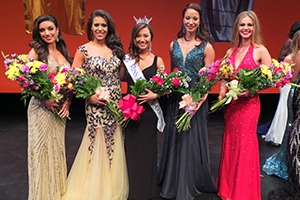 Waiting backstage before the pageant, Ariana Kruszweski felt something strange: nerves. A junior musical theater major at AU, Kruszweski had performed in scores of productions before arriving as a contestant at the Miss D.C. Scholarship Pageant.
This time, however, was different.
"It was a very odd experience, and made me more nervous to go out onstage as myself and not have a character, a story to tell," Kruszweski explained.
She wasn't alone in her jitters; four other current and former AU students accompanied her on stage, each vying for the coveted title of Miss D.C.—a title that would take the winner to the national Miss America Pageant.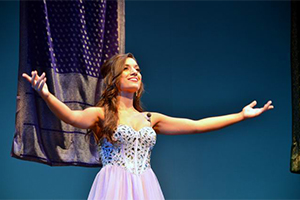 Recent AU grad Tori Vogel joined Kruszweski, as well as fellow Eagles Emily Solan, Kiersten Gonzalez, and Jana Bernard, in the June 15 event at Washington, D.C.'s historic Arena Stage Theater.
Vogel, her nerves mounting, lined up with the other 16 college-age contestants for the swimsuit portion of the evening.
That's when the fire alarm sounded.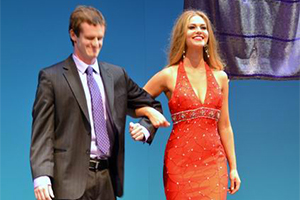 The event paid off for these two participants—literally—as the pageant also serves as a scholarship competition. Vogel, who majored in sociology, placed fourth, netting her $1,000 in scholarship moneys. Kruszweski put her vocal skills to use, winning the talent portion of the evening and placing fifth overall. She took home $500 in academic funds.
For Kruszweski, the pageant experience felt oddly familiar. "In some ways, it was similar to the AU environment," she explained. "I met a lot of different kinds of people that are really passionate about causes, global affairs, politics. Whatever their field is, they're coming together, inspired to make a difference and work hard."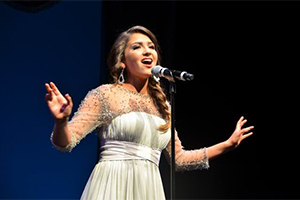 Vogel believes her success with Connors extends in part from the go-getter attitude that AU instills in its students. "AU really taught me to take advantage of every opportunity," she said. "Representing AU, all of us showed how engaged AU makes you become."
And the group truly did represent the university. After all the jitters melted away, the fire alarm was called off, and the winners announced, Kruszweski looked over at Vogel—each woman holding a colorful bouquet—and felt something different: pride.
"It was at that moment, that I felt really proud for representing AU," she said. "I felt proud of all the AU girls. I think we did a great job and represented our school well."