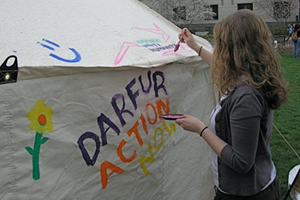 In 2008, Leadership Program students were active on campus in raising awareness of the conflict in Darfur.
To help students learn the leadership skills necessary to affect real social change, first- and second-year students design and implement social action projects of their own making. Students research a social problem they care about deeply, learn what others are doing to address the problem, and design and execute their own project to help correct the problem. 

Students have written and produced plays and books, designed websites, crafted widgets, sponsored awareness events, launched letters-to-the-editor campaigns, and brought speakers to campus from across the country. Their passions are as diverse as they are: Kenyan tribes facing extinction; eating disorders; safe drinking water; meteors striking the earth; environmental education of urban youth; child poverty, and many other issues.

In their first year, Program students work in small groups to design and execute these projects. Second-year students continue to develop their leadership in this area by working as individuals and collaborating with others outside the Program. As sophomores they also develop fundraising skills by writing grant proposals. 

In the process of working on social action projects, students learn important leadership lessons such as how to work effectively in a group, successful project management, the impact of group dynamics, effective meeting management, and the importance of commitment, follow through, time management, networking, reputation, self determination, motivation, servant leadership, creativity, overcoming adversity, and much more. 

Students' work on these social action projects is the core of the SPA Leadership Program.