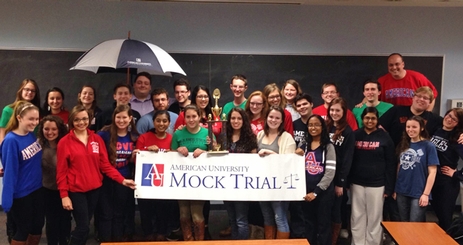 Mock Trial
Mock Trial is an opportunity for students to hone skills in presentation, critical thinking and collaboration through a simulated courtroom experience.
Mock Trial 2012-2013 Highlights
Welcome from Mock Trial President
Hi, my name is Connor Trafton, and I am the President of American University's Mock Trial Program. The 2013-2014 school year is my fifth year competing in mock trial, at both the high school and collegiate level. I can't think of another single thing that has impacted my life in such a meaningful way. Through "mocking," I have learned essential skills, made lifelong friends, and developed a passion that has guided me towards an eventual career in the justice system.
Looking back, my experiences while competing in mock trial have undoubtedly been some of the best of my life. The constant competitive drive and intellectual stimulation present at every level of mock trial creates an atmosphere that's unmatched in any other extracurricular activity.
We're one semester into this year's competitive season, and we're itching for more. You'd think that after competing at 6 tournaments and taking home more than 15 awards that we'd be satisfied with how we've done. And yes, we're proud of what we've accomplished. We have faced some of the best teams in the country and we've held our own. We even hosted our own tournament, the WONK Trial Invitational, which ran without a hitch.
But we're just getting started. The spring semester is when all of the blood, sweat, and tears we've put in are put to good use. We can now take the time to hone our skills, develop our strategy, and win the awards when they count. Those 6 tournaments from this fall? That was the warm-up lap, getting us in prime shape to take home the big awards next spring.
It's time to get down to business.
See you in the courtroom,
Connor Trafton