Frequently Asked Questions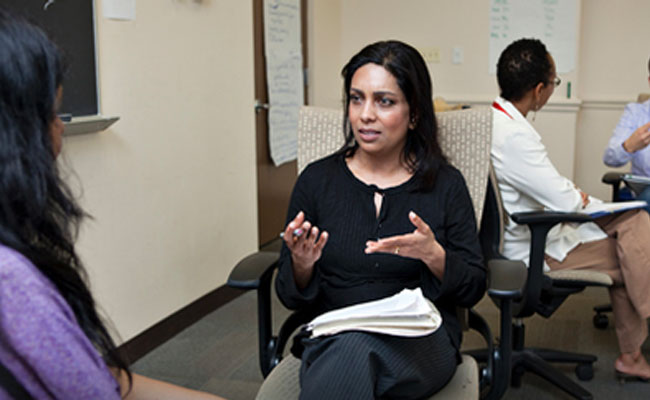 1. What does AU look for in MSOD applicants?
Beyond the basic admissions criteria, we look for applicants who understand our unique approach to professional adult education, bring workplace experience, can commit the time and life space to 20 months of rigorous graduate education, and show promise in the field. There is no expectation of previous OD experience; members of our classes come from a wide range of backgrounds. GRE or GMAT are not required for admission.
2. Can I complete the AU MSOD degree online?
No. Our curriculum is experiential and face to face. At the same time, we use the Blackboard platform for online work within the weekend curriculum as a means of preparing for class, accessing reading materials, and carrying on discussions.
3. Can I transfer coursework from other institutions?
Because this is a cohort-based, experiential curriculum that flows in a planned sequence, AU MSOD does not accept transfer credit from other institutions.
4. Does AU MSOD provide Career Services to its students and grads?
MSOD students and graduates have access to the AU Office of Career Services. However, because of the specialized nature of OD and the MSOD degree, we find that the best career preparation results from a multifaceted approach: building networks; talking with our faculty and many well-connected graduates; taking volunteer opportunities as they arise; and using the curriculum strategically to further define yourself and build your skills, knowledge and resume.
We refer all members of the AU MSOD community to LinkedIn and to the OD Network, where job notices are posted. We encourage students to write proposals for conference presentations and to volunteer their services at regional and national OD conferences as a means of professional socialization and networking. Late each fall, we hold an "Incubator" session where students, grads, faculty and others gather to discuss and develop their ideas for proposals to present at national and regional conferences sessions.
5. What does a weekend schedule look like?
Each on-campus course meets on two weekends, roughly a month apart. Weekend MSOD classes start at 9am on Fridays and meet until 5pm. On Saturdays, they start at 8:30am or 9am and end at 3:40pm. Then Community Learning Time** is held from 4pm-6pm. On Sundays, classes begin at 8:30am and end no later than 4pm. Each weekend course begins with a two week period of reading, preparation and online work before the first weekend. In the month between class weekends, students have follow-up activities and read to prepare for the second weekend. Following weekend 2, students have 2 weeks to complete a final project or paper.
**Each cohort has a two-hour block of facilitated time on Saturday afternoons of class weekends. Cohorts use this time to develop a deeper understanding of their own community, manage their own group process, and practice skills and ideas learned in class.
6. What happens if I have to miss a course or part of a course?
The schedule for each cohort's curriculum is available before you are admitted to the class. The first step in an MSOD education is to write in the scheduled dates that classes meet. If you know you will need to miss more than a half day of class for a given course, you will need to make special arrangements with the Director or arrange to take that course with another cohort. Please be aware that such changes can affect your financial aid and delay your graduation. Should you become ill or experience an unavoidable conflict that prevents your attendance during any part of a course, you must immediately inform your course instructor as well as your advisor. S/he will work with you to determine the steps necessary to fulfill academic requirements and complete the course contact hours.
7. What is the grading scale, and when do I get my grades?
Grades are on the traditional A-F scale, except for the Practicum which is Pass/Fail. You must maintain a 3.0 (B) average to be in good standing for continuation in the program and eventual graduation.
Our faculty submit grades electronically upon completion of evaluating the final assignment. Usually this assignment is due two weeks after the last scheduled class. Thus, you will usually receive the grade a month after the last class meeting.
8. How am I billed?
The University's Office of Student Accounts generates the tuition invoices for our program. You (or your sponsor) pay for each course by the first day that class meets. We regret that the University does not accept credit cards for bill payment.
9. How do I register for courses and get my books, syllabus, and other handouts?
Registration for AU MSOD courses is taken care of by your Academic Advisor. Your books are delivered to you at the end of each course for the next course - books are included in your tuition. As AU is working to reduce its reliance on paper, you will access your syllabus and other readings/handouts online for each course via the Blackboard portal.
10. What campus services are available to me?
As an AU student, you have access to the Bender Library, AU Fitness Center, Learning Support Services, Student Health Center and Psychological Services, the Career Center, Katzen Gallery, plus all eateries, campus events and other activities and services offered to the AU community.
11. What is a cohort and why is the cohort experience important?
AU MSOD students have entered as cohorts from the start of the program to the present. A cohort is an "intact" class that takes all courses together through the curriculum sequence. Cohorts are typically diverse in composition and 14-18 in size. Cohort members come from all regions, fields, and demographics. This diversity of experience and range of backgrounds and expertise is essential to the richness of the classroom experience. The cohort approach offers students a way to experience and learn about groups and organization dynamics by being a part of an intact learning community over the two years. Through the program, cohort members become learning partners, friends, and professional colleagues.