Academics
Doctoral Students Showcased at 4th Annual SPA PhD Research Conference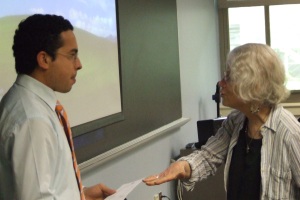 SPA doctoral candidates presented original research to a panel of faculty and invited guests during the 4th Annual SPA PhD Research Conference, held on May 8th.

The all-day event featured findings on a broad array of public affairs issues, including drug use by college students, the application of customary law in Mexico, domestic violence in South Africa, and the operations of police departments' internal investigations units.

"We're all in different stages of our work, and it was a good opportunity to receive feedback on how we're doing," said doctoral student Mohamed Alaa.


Doctoral candidate speakers and their dissertations:

Mohammed Alaa, "Human versus Economic Development in the Arab World: What Can We Learn about the Role of Democracy"
Jibey Asthappan, "A Cultural Comparison of Drug Use among American and South Korean College Students: An Application of Hirschi's Social Bond Theory"
Peter Brouse, "The States of Small Donors"
Mike Danielson, "The Effects of 'Bringing it All Back Home' on Customary Village Governance in Oaxaca: Migration, Customary Law, and Voluntary Service in Indigenous Southern Mexico"
Amanda Girth, "Accountability and Discretion in Contract Implementation: Examining Public Managers' Differential Responses to Imposing Contract Sanctions"
Bill Harder, "Landfill Sitting in the Northeast: an Analysis of the Role of Demographics"
Joel Hunt, "Exploring Potential Predictors of When Internal Affairs Departments are Implemented in Police Departments in the United States"
John Marvel, "Explaining the Adoption of Exclusionary Land Use Regulations By California Cities"
Kelley Moult, "Gate-keepers or rights keepers? Domestic violence court clerks and the administration of justice in South Africa
William Resh, "Measuring the Impacts of Limited Contract Management Capacity"  
SPA's doctoral program offers three Ph.D. degrees: Political Science, based primarily on fields in American Politics & Comparative Politics; Public Administration anchored in Policy Analysis and Public Administration; and Justice, Law & Society.  

Founded in 1943, and ranked among the top institutions of its kind, American University's School of Public Affairs offers undergraduate, graduate, and executive level programs, with degrees in government, justice, public administration, public policy, and organization development. SPA is home to research centers and institutes in the fields of political science, public administration, public policy, and justice. It is the only school of its kind with three accredited graduate degrees: MPA, MPP, and the Executive MPA. AU's School of Public Affairs faculty and alumni are active in global policy legislation, advocacy and the nonprofit and private sectors.