Government & Politics
Rob Engel's Class Brings Congress to Campus
By April Thompson
April 22, 2010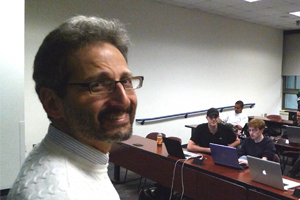 Some of AU's key resources for student politicos aren't on campus, but six miles away, in Congress. SPA alumnus, former Hill staffer and adjunct professor Rob Engel coaxes them into the classroom to give students a look inside the world's greatest political machine.

"This course is not just about how a bill becomes a law but how students prepare to be an intern, a legislative director, or even a congressman," said Engel of his undergraduate class on Congress and Legislative Behavior.

Engel would know the path from student to staffer. As an AU undergrad, Engel visited office of then-Senator Adlai Stevenson for a paper, which led to a job in his office – the start of Engel's storied career in political campaigning. "It was a phenomenal experience. If I hadn't gone to AU, I wouldn't have had that opportunity," said Engel.

In his first semester teaching the course, Engel arranged an all-star cast of Representatives and Senate chiefs of staff, to include Rep. Peter King (R-NY) and former Rep. Connie Morella (R-MD), to visit the class. Four of the nine were AU alums, and most of the others had AU connections.

"I believe there are more AU alums on Capitol Hill than from other school," said Engel.

To give students another view of life under the big dome, Engel assigned Inside The House, a compilation of essays by former members of Congress; Congress from the Inside by Sen. Sherrod Brown (D-OH); and Breach of Trust: How Washington Turns Outsiders Into Insiders by Sen. Tom Coburn (R-OK). Sen. Coburn was so excited to learn the class was reading his book that he invited the students to his office for an extended Q&A session.

Engel also worked with his connections to simulate assignments a Hill staffer might face. For example, students were given real constituent letters and asked to answer them from the perspective of a particular Congressperson, given his or her political agenda. Students also did mock briefings and presentations on key issues facing Congress, from energy to health care, among other pseudo-real-life assignments.+

While Engel is passionate about hooking students up to the Hill, the ever-pragmatic professor kept checking in with students to see if the visits and field trips were helpful.

"They were mesmerized," he said.