Professional News
SPA Hosts Panel on Careers in Social Policy
Recent Alums Share Tips with MPP and MPA Students
By Laura Siegel
April 26, 2010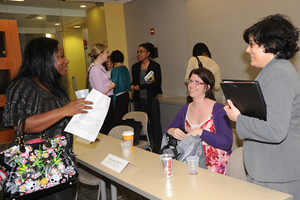 What's a hotter topic than social policy? These days, very little. In Washington and across the U.S., SPA alumni are leading the pack in making change in the areas of education, child care, health care, community development, and other social policy issues.

In April the School of Public Affairs hosted a panel discussion on careers in social policy, featuring alumni from SPA's MPA and MPP programs:
Megan Campbell, MPP/SPA '09, Presidential Management Fellow, Policy Division of Child Care Bureau
Kristen Darling-Churchill, MPP/SPA '07, Senior Research Analyst, Child Trends
Courtney McSwain, MPP/SPA '06, Assistant Program Officer for External Affairs, Local Initiatives Support Corporation
Quinci A. Moody, MPA/SPA '05, Founder and Executive Director, Next Level Leadership & Capacity Building
Cameron Smith, MPP/SPA '08, Special Assistant, American Action Forum
Panelists discussed their current positions, how their degree program relates to their work, tips for job seekers, their favorite (and least favorite) aspects of their jobs, and the major challenges these policy-makers, consultants, and analysts face.

Panelists offered valuable insights into their average work day. Most said that their day includes a combination of project management, fundraising, outreach meetings, policy analysis, and program implementation. A shared experience: the courses alumni took at AU prepared them for career success in this varied and demanding work.

"Everything that I took that was nonprofit management is somehow used day to day now," says Quinci Moody who recently founded a non-profit organization that advocates on behalf of vulnerable populations. Top advice for job hunters: panelists stressed the importance of networking. 

"Don't speak to someone hoping to give you a job, instead hope to get two more names you can add to your list of contacts," says Kristen Darling-Churchill.

Following the discussion and a question and answer session, SPA Assistant Professor and MPP Director, Alison Jacknowitz, the discussion's moderator, encouraged students to put this information into practice as she invited students to network with the alums at a post-panel reception.