Government & Politics
SPA Junior Testifies on the Hill for a "Social Trampoline"
By April Thompson
September 3, 2010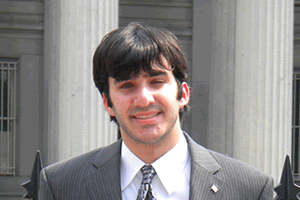 Social Security and the social safety net are key issues before the bipartisan National Commission on Fiscal Responsibility and Reform, the body charged with finding ways to make the nation more fiscally sustainable. At a public forum this June, SPA Junior Aaron Goldstein was first on the docket to present his generation's outlook to the commission.
"Despite the misconception that the Millennial Generation doesn't care about Social Security or the outcome of various reforms… young people think of Social Security as an essential aspect of the fabric of American society," Goldstein testified. "Millennials reject the notion that cutting programs is the only effective way to reign in the growth of our public debt."
Goldstein is President of the Roosevelt Institute at AU, a chapter of the Roosevelt Institute Campus Network, a student policy organization at 86 U.S. campuses that seeks community change by promoting student-generated policy solutions. This year, Roosevelt created a program called Think2040 to empower young people to "design the future that they want to inherit," according to Goldstein.
The model of Social Security presented in Goldstein's testimony was developed at an AU-hosted Think2040 forum in collaboration with the network's executive director Hilary Doe and contributions from 8,000 network members across the nation.
"Instead of a safety net, we need a social trampoline," said Goldstein. "A trampoline that allows [people] to take risks, to pursue their entrepreneurial, innovative ideas and take chances, the foundations of the American Dream. A trampoline that ensures that not just the fortunate do well, but that our communities remain strong."
The Roosevelt Institute Campus Network was among 90 think tanks, advocacy groups, policy experts, and concerned citizens invited to lend their perspectives on Social Security at the forum, including the Brookings Institution, AFL-CIO, and the Cato Institute.
"We were part of the very first panel, so we knew we had the commission's attention," said Goldstein. "They seemed very interested in hearing where the Millennials stood on the issue."
"It was great to experience things firsthand that I've studied at SPA" such as the relationship between outside constituents and the different branches of government, as the White House-initiated commission included both executive and legislative representatives, Goldstein said.
"I've gotten lots of experience writing, debating and presenting at SPA, particularly in classes like Congressional and Legislative Behavior, and Civil Rights and Liberties. Those skills helped prepare me for this testimony."
The Roosevelt Institute Campus Network's next task is to draft a Blueprint for the Millennial America, which will result in a comprehensive publication with proposed solutions to fixing social security. The organization also plans to invite the commission staff and members to a Millennial-focused forum in the fall. They hope to reach the committee in time to influence a commission report that will come out in early 2011, opening up a debate that Goldstein hopes will pave the way for new legislation.
"AU students are really engaged in these long-term issues," said Goldstein. "The baby boomers are retiring, and it's the Millennials who will bear the brunt of the cost and potentially pay higher taxes or have a lower quality of life compared to our parent's generation. We need to know what's happening and provide our own input as well."