Research
Groundbreaking Symposium to Tackle Caribbean Gang Violence
By April Thompson
February 13, 2012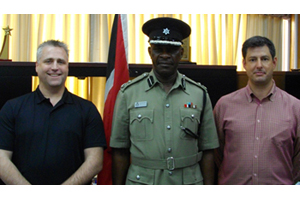 On February 17, SPA will host an eclectic mix of researchers, policymakers, diplomats and practitioners for the first-ever symposium on Caribbean gang research. It's not a moment too soon, according to Ed Maguire, one of the event's key organizers.
"Despite increasing funding for anti-gang programs in the Caribbean, the violence is getting worse, and the homicide counts going up," he said. Maguire is Associate Professor and Chair in SPA's Department of Justice, Law, and Society (JLS), which offers expertise in developing countries and performs relevant research on real world issues.
Maguire would know: the professor has traveled to Trinida and Tobago more than 50 times to conduct the most in-depth research ever done on the topic. Maguire's partner in fighting crime is Arizona-based collaborator Charles Katz, who leads the Inter-University Consortium for Caribbean Gang Research sponsoring the symposium.

Entitled "Setting the Research Agenda for the Future," the symposium will offer a full day of speakers and panels on the causes, correlates and consequences of Caribbean gang activity to "try to reach a common understanding of the issues and how we go about tackling them," said Maguire. "This conference approaches the topic from multiple perspectives, including criminal justice, public health, and youth development."

Core participants will include researchers from the Consortium's schools, including AU, Arizona State University, University of West Indies-Mona and Sam Houston State University, but the organizers hope that the consortium will draw other like-minded scholars interested in gangs and violence in this region out of the woodwork. They hope to specifically attract more collaborators from the Caribbean as well as junior scholars they can mentor.

Research Findings Challenge Political Rhetoric

At the symposium, Katz and Maguire will share some key findings from their six-year research project in Trinidad. Some of their work challenges the prevailing political opinion about gangs and how to shut them down.

"All the political rhetoric about the causes of gang violence in the Caribbean revolves around global issues like transnational crime and drug smuggling from South America," said Maguire.

"But as you start to study gang violence, you find that it is actually a very local problem. And that being the case, globally-focused solutions proposed like coastal radar won't do a thing to solve it." Maguire found that most of the gangs were "beefing over petty issues – disrespect, rivalry, revenge and girls."

Their research also suggests that, contrary to the "political rhetoric that a lot of guns are being brought in from Venezuela," the gun market is actually drying up in Trinidad.

"Gun prices are on the rise," said Maguire. "Offenders told us they were renting guns to carry out a crime. And there were some pretty bold cases of people without guns robbing armed security guards just to get their guns."

In the course of their research, Maguire and Katz interviewed more than a dozen major gang leaders (most of whom are now dead), as well as their followers, friends, and family of their victims. One of Maguire's most memorable interviews was with a gang leader who had a reputation for being "unkillable," though many rivals had tried. Sitting on his front porch, the gang leader lifted his shirt to reveal a constellation of bullet wounds and proceeded to tell Maguire the story behind each one.

"I was blown away by the scar tissue… You hear about the violence these young men face, but seeing those bullet wounds and hearing the stories that went with them was really striking," he said.

Getting the gang members, whom Maguire describes as having a "Robin Hood complex," to talk is surprisingly easy, he said.

"People ask how I get cops and offenders to talk. All I have to say is 'Hi, my name is Ed'," he quipped. "People from all works of life are remarkably interested in themselves. Ask a couple of questions and they'll talk. What's more challenging is to dig beyond their 'presentation of self'."

While Maguire maintains the controversial view that some gang members are "beyond saving," he believes that there are many younger gang members who are "eminently rescuable" -- if viable alternatives to gangs are put in place. "These kids simply don't have other options," said Maguire, "and the temptation to join gangs, which offer protection, status and a sense of belonging, is strong." 
Maguire has seen some Caribbean policymakers begin to adopt US "stop the violence" programs that have been marketed well but simply don't work. He hopes that as researchers begin to share their experiences, findings and ideas through events like the February symposium, they can help provide clearer, more effective policy directions.

For more information or to register, visit tinyurl.com/gangsymposium. To download research by Maguire and Katz, including a new article comparing data on American and Trinidadian gangs, visit www.edmaguire.net.