Internships
Lessons From the Professionals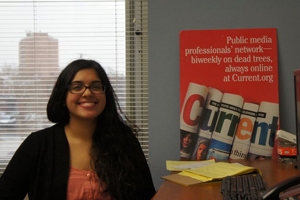 Below is a first person account from Dean's Intern Erica Sanchez-Vasquez on her internship at Current.
The world of public broadcasting is undergoing a great transformation, and as an intern at Current I get to witness the changes from a closer perspective than ever before. I get to learn from media makers themselves how they are responding to the challenges of the ever-evolving technological landscape. I get to report on innovative projects, and ask reporters about their process, the challenges they face, and the impact that they have had.
In the short time I have been in Current, I have learned a few lessons that I will take with me when I go into the professional world. One of the most important is that despite the significance of how the content is presented, the most important thing is still the content itself. One of the projects I reported on was a fairly traditional television report that had great success because it presented a holistic picture of the population problem in the Philippines. It was part of a multi-platform project, which exploited the advantages of the Internet, but it was still the reporting itself that got most of the attention. Good content mixed with the longevity and accessibility of content on the Internet make for a great combination.
Another important lesson I have learned is the increasing importance of participation by the public. Most recently, I had the opportunity to go to a forum about public media and the arts. I was excited to hear about the interactive projects that are being funded by different organizations. Some of them involve the public by providing the tools to participate in content creation. Others involve them through games and lead them to take real world actions. It is interesting to see how in many cases, media producing is becoming a collaboration between the "professionals" and what used to be considered the audience.
One of the great things about working here is that I can pursue some of the topics that I love most. I've been able to cover international topics, within the public broadcasting field. As an International Media student, it has been very exciting to write about journalists covering international issues. Interestingly, they were all distributed across platforms, giving these complex reporting projects a longer life than they would have had in traditional broadcasting. Learning about the work of these journalists has given me hope that the type of reporting I want to do is still possible and viable.
Beyond learning about this and other elements of public broadcasting, I have enjoyed the work environment at Current. The bi-weekly pace gives an opportunity to delve deeper into the articles, and to learn from my own mistakes and from the people around me. Over the next few months, I hope that I will become a better journalist through all of these experiences and through my conversations with media professionals in different fields.