On Campus
Get Amped Up for the 2014 World Cup in Brazil with These Library Selections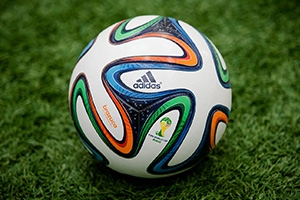 The beautiful game is going to Brazil—and the world will be watching. Brush up on your soccer knowledge, or just immerse yourself in Brazilian culture with the following CDs, books, and movies. These titles and more are available at the AU Library.
Music:
Hosting any World Cup viewing parties? Set the mood before you turn on the match with some music from Brazilian artists.
Acoustic Brazil (CD 5027) Warm acoustic performances by various artists, showcasing regional music
Brasileiro (CD 9683) Grammy-winning Bossa Nova album by Sérgio Mendes
Caetano Veloso (CD 9854) Self-titled album from the award-winning composer and performer 
Gil e Jorge (CD 9855) Iconic Brazilian musicians Jorge Ben and Gilberto Gil collaborate on this 1975 classic
Tropicália: A Brazilian Revolution in Sound (CD 9862) Compilation album capturing the music of Tropicalismo, a 1960s cultural and artistic movement in Brazil
The Music Library is located in the Katzen Arts Center, First Floor (141).
Books:
If you're looking for something to read on your flight to Sao Paulo, or just for your Metro ride into the office, we have a great selection of titles.
The Ball is Round: A Global History of Soccer by David Goldblatt (GV942.5 .G65 2008) Critically acclaimed and engaging history of soccer
El Futbol a Sol y Sombra by Eduardo Galeano (GV942.7 .G35 2000) The history of world soccer, as told by an award-winning writer
Fever Pitch by Nick Hornby (GV943.2 .H67 1998) Hilarious and honest, this classic is an autobiographical look at the life of a soccer fanatic
Inverting the Pyramid: A History of Football Tactics by Jonathan Wilson (GV943.9.T7 W55 2009) An in-depth examination of soccer strategy for serious fans
A History of the World Cup: 1930-2006 by Clemente Angelo Lisi (GV943.49 .L57 2007) Delve into the first eight decades of this sporting event watched by millions around the globe
How Soccer Explains the World: An Unlikely Theory of Globalization by Franklin Foer (JZ1318 .F64 2010) A look at how soccer interacts with and influences the global economy
Soccer Empire: The World Cup and the Future of France by Laurent Dubois (eBook) Learn more about the complex intersection between soccer and colonialism
Soccernomics: Why England Loses, Why Germany and Brazil Win, and Why the U.S., Japan, Australia, Turkey—and Even Iraq—Are Destined to Become the Kings of the World's Most Popular Sport by Simon Kuper and Stefan Szymanski (GV943.9 .S64 K88 2009) A Moneyball-esque look at how data does, doesn't, and could influence soccer

Film:
These films are perfect to whet your appetite for the banquet of upcoming World Cup matches.

"The '99ers," Nine for IX (HU DVD 8530, Disc 3) An exploration of the U.S. Women's soccer team that won the 1999 World Cup
Bend It Like Beckham (HU DVD 672) The international smash hit about the daughter of an orthodox Sikh family, torn between tradition and her love of soccer
The Damned United (HU DVD 7058) This sharp, funny British drama delves into the rivalry between two soccer teams managers
Green Street Hooligans (HU DVD 9087) An indie drama based on the gritty world of soccer hooliganism in the UK
"The Two Escobars," 30 for 30 (HU DVD 7907) A look at two influential men named Escobar and the interaction between soccer, drugs, and crime
Zidane: Un Portrait du 21e Siècle (BLU 8849) Experience a soccer match viewed through the actions of celebrated and controversial player Zinedine Zidane

Media Services is located on the Lower Level of Bender Library.
For more films on the wide world of sports, check out the Library's Media Services Pinterest. Plus stop by Bender Library to catch a World Cup game—the games will be on whenever we are open.