Arts
AU Museum Exhibit Interprets Work of Borges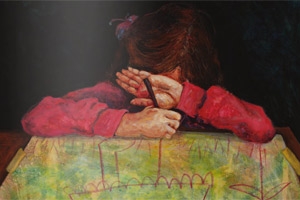 In conceiving Painting Borges: The Exhibition, opening April 6 at the American University Museum in the Katzen Arts Center, curator Jorge J. E. Gracia sought to look at the connections between literature, art, and philosophy.  
He began by selecting a literary figure, which was easy for Gracia, who holds the Samuel P. Capen Chair in the Department of Philosophy and is a professor of comparative literature and Distinguished Professor at SUNY–Buffalo.  
He chose Argentine author Jorge Luis Borges, one of the most prominent and profoundly philosophical writers of the last century. Borges's stories, says Gracia, are filled with conceptual puzzles that provoke readers to reflect on the central issues of our existence.  
Gracia selected a dozen of those stories and organized them by topic into three groups: identity and memory, freedom and destiny, and faith and divinity. 
The next step was to find artists. While Borges's work has inspired many from Buenos Aires, Gracia wanted to include artists from other cultures. A culturally diverse group, he felt, would best illustrate the many different creative paths that artists take as visual interpreters of literature. And Gracia was looking for artists who would truly and fully interpret Borges's stories rather than simply represent a story or a theme.  
He ultimately chose 16 visual artists—Argentines and Cubans and Cuban Americans "who were as American as Cuban"—to interpret the 12 stories. Some of the artists had had experience interpreting Borges; others were undertaking the challenge for the first time for the exhibition.  
The 16 artists are Luis Cruz Azaceta, Alejendro Boim, Miguel Cámpora, Ricardo Celma, Laura Delgado, Héctor Destéfanis, Claudio D'Leo, Carlos Estevez, José Franco, Etienne Gontard, Mirta Kupferminc, Nicolás Menza, Mauricio Nizzero, Estela Pereda, Alberto Rey, and Paul Sierra.