Arts
MFA Studio Berlin Brings Grad Students to Germany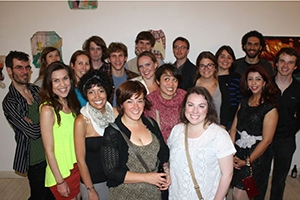 Berlin is not Europe's oldest capital city; it is not its most influential city or its most romantic city; and it is not Epcot. These are a few of the conclusions I came to after living in Berlin as part of the MFA Studio Berlin program.
I studied in Berlin with eleven of my peers from the Studio Art MFA Program for six weeks this past summer. I offer here one artist's view of Berlin and his experiences in that great city.
During our brief time in Berlin, our goals were to explore the city, learn about its cultural institutions, meet as many artists and curators as possible, make some art in the studio, and finally mount an exhibition from our studio space to culminate the experience. Our goals were admittedly lofty, but entirely worth attempting. In the studio, we were mainly left to our own devices and worked on our personal bodies of work, all of which were somewhat touched by our new surroundings. For example, in my own work I began to incorporate elements of the cities baroque past by using molds I made to take part of the architecture home with me.
On the academic side of the scale, Andy Holtin, our professor, set up an abundance of experiences for us. Several times a week we would go off to a cultural institution or artist's studio. These outings provided us with a glimpse of Berlin's art community, from artists just beginning to get their voice heard, like Tobias Sternberg, to an established art juggernaut like Candice Breitz. The opportunity to go into so many artists' studios is nearly unimaginable in any other situation, but the program opened doors for us, and we were able to meet with around thirty artists and curators. These outings "got our feet wet" and helped us begin to explore the city.
The aspect of Berlin that first struck me when I got off of the plane was its authenticity (hence its not being Epcot). What I mean by this is that in Paris, London, or Rome—which I have been lucky enough to visit--you get the sense that the city is trying to present a version of itself that is a digestible form of its former glory.
That is not to say that Berlin does not possess many sites of idyllic beauty that seem too good to be true; Scholss Charlottenburg and neighboring Potsdam provide enough baroque grandeur for even the most avid enthusiast. When you step off of the train in Potsdam, you are almost instantaneously surrounded by palaces, chapels, follies, grottos, and everything else the royalty could dream up to keep themselves entertained. And to drive the point home that there are parts of Berlin that have that feeling of served-up opulence, there is an island called Pfaueninsel in the River Havel, which translates to peacock island. This island is home to the remains of the royal menagerie, where peacocks, boars, horses, and buffalo roam about the ruins of temples, fountains, and hunting lodges. To add to that, the Prussian kings built an Epcot-esque castle so that they might have a better view from their palace in Potsdam, across the water from the island.
To provide the ultimate contradiction to the opulence seen on these outings, a group of us navigated our way through a bombed-out Nazi Anti-Aircraft Tower and Bunker less than a week after visiting Potsdam. The structure had been built so well that the Soviet army found themselves incapable of destroying it completely. The half-imploded structure now forms a hill of debris with a beautiful park on top of it (this is the case with many of Berlin's hills, known as rubble mountains).
But, while visits to these parts of Berlin are engrossing, my favorite part of the trip was far more mundane. The daily route to the studio involved a trek along a canal that had swans swimming in it. Every day this walk seemed to bring something different, whether it was the Turkish Market with an extensive variety of delicacies or the elderly gentlemen engaged in a seemingly never-ending game of bocce ball next to the canal. It was always an experience that I will compare to every walk I ever take again.
I began this article by stating what Berlin is not, which in many ways is one of the easiest ways to describe Berlin. This is because of Berlin's transient nature. Berlin's essence is its impermanence. Its history has not left any sturdy ground on which to build a real sense of permanent identity for the city. I think, however, its ever-changing nature is what makes it one of the most exciting cities I have been fortunate enough to visit. To do this experience justice, this article would have to be the length of a short novel, so I recommend visiting Berlin so that you can see all the amazing opportunities this city can offer.