Alumni
Bucher Shares Burgers at BGR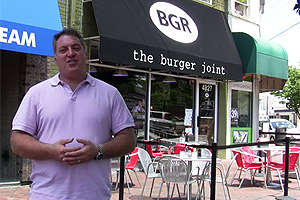 Mark Bucher, SPA/BA '90, designed his popular hamburger restaurant to create a sense of community—the same community Bucher felt growing up in Philadelphia, amidst summer block parties featuring a neighbor's infamous burgers.
On Tuesday, he shared that experience with Kogod alumni and new Dean Michael J. Ginzberg.
Over 30 alumni gathered under a tent outside BGR The Burger Joint's Bethesda location, braving the heat to much on an array of burgers, fries (yes, sweet potato, too) and other nosh.
"This is an opportunity for us not only to stick together, but also get to know each other better outside of Kogod," said Subomi Johnson, BSA '11, and incoming MS in Taxation student.
Bucher's franchise spans seven states plus the District, with 11 joints—and four in the works—up and down the East Coast. The joint has won multiple accolades for its specialty burgers and good ol' days atmosphere, a place where communities can gather.
"I came out today because I think that keeping the sense of community amongst our alumni is a very important thing," said Jeff Wilson, MSA '11.