On Campus
American University's Top Ten Stories of 2010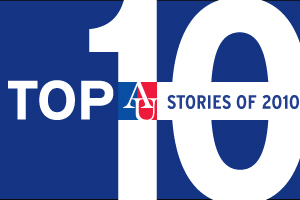 By all measures 2010 was a remarkable year at AU. From a monumental presidential visit to the opening of a spectacular new building and important academic breakthroughs by faculty and students across campus, the university forged forward in impressive fashion.
We've assembled this list of AU's most noteworthy stories not only to celebrate the university's accomplishments, but to have a little fun. Tell us your favorite stories of 2010 on our Facebook page or on Twitter.
Before we bid adieu to 2010, let's look back on some of AU's 2010 achievements. 
1. Presidential Visit — President Barack Obama chose the new School of International Service building (more on that in a bit) for his landmark July 1 speech on immigration.
2. Scholarship and Research — The Center for Latin American and Latino Studies, AU's first university-wide center, opened its doors in March. Throughout the year several professors, including Akbar Ahmed, Joseph Campbell, Curtis Gans, Jennifer Lawless, and Stephen Wermiel penned well-received books. Kogod School of Business's real estate faculty were among the most prolific researchers in the field. Headlining a banner year for student scholarship recipients were a record number of Boren and Bosch winners.
3. New School of International Service Building opens — The magnificent, 70,000-square-foot environmentally-friendly building opened with a bang: President Obama's speech was its first event.
4. Wonks — First on campus, then to the world-at-large, the wonk branding campaign debuted to great buzz at AU, in the media, and among higher education circles.

5. Sustainability — By 2020, AU will be completely carbon-neutral. In the meantime, the university is buying 100 percent green power, is the first school in the country to use a Vegawatt, and continues to add green roofs around campus. 
It all earned AU a solid B+ on the College Sustainability Report Card.
6. The Class of 2014 was among AU's strongest ever. At the Faculty Retreat, Provost Scott Bass reported that:

Freshman to sophomore retention after the freshman year has increased in the past four years.
The six-year graduation rate is on the rise and "moving in the right direction."
The number of underrepresented minority population and percentage of Pell-eligible students has doubled since 2008.
The master's population has gained nearly 300 students in the last four years.
From academic year 2008 to 2010 faculty requests for external monetary support have doubled.
7. Rising Science Stars — Exciting scientific research and breakthroughs are becoming the norm at AU. Catherine Stoodley is focusing her brain on the cerebellum; Matt Hartings is examining the medical uses of metal; and U. J. Sofia is looking at the dust in the heavens.
8. A Year for the Arts — The Katzen Arts Center turned five, but all over campus arts projects shined.

Terezin began as a project centered on a play written by prisoners in a Nazi ghetto, but it turned into a yearlong, multidisciplinary exploration of the arts, history, memory, and identity. The Department of Literature's Visiting Writers Series turned 30, and Robert Kogod donated beautiful works of the art to the business school that bears his name.
9. Student-athletes shine both on and off the field — In the spring semester AU student-athletes earned a 3.37 grade-point average, matching the highest single-semester GPA in program history since records began being kept in 1995. 
In the fall, the women's volleyball and field hockey teams once again won their Patriot League tournaments and went to the NCAAs.

Three Eagles were named Patriot League Scholar-Athlete of the Year.
10. Rankings and Grants — The Princeton Review named AU No. 1 in its Most Politically Active Students category. 
The Institute of International Education's "Open Doors 2010" report estimated that 59.8 percent of AU students study abroad, ranking it fifth among doctoral institutions.
G.I. Jobs magazine announced that it has named AU a "Military Friendly School" for 2011. Just 1,224 of nearly 7,000 eligible colleges (15 percent) received the distinction.
Across campus, faculty were highly successful in landing grants. Among the notables were anthropology professor Dan Sayers, who received a three-year, $200,000 We the People grant from the National Endowment for the Humanities (NEH) for his project entitled, "Nineteenth-Century Tidewater Resistance Communities: The Forgotten Social History of the Great Dismal Swamp."
Charles Lewis and the Investigative Reporting Workshop won a $600,000 grant from the MacArthur Foundation.