Greek Letters Grow in Numbers
By Patrick Bradley
November 20, 2012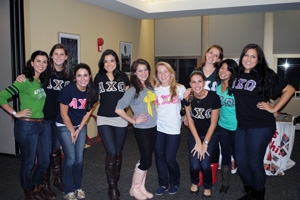 Onward & Upward

AU's fraternity and sorority life community keeps on growing.

Under Student Activities' assistant director of fraternity and sorority life Curtis Burrill, these organizations have expanded their populations by 40% over the past five years.

"In eight years, we've had four hundred new members added to the community," he explains, looking further back into the community's growth. Currently, 1,255 students count themselves as members of a Greek letter organization, bringing the community's presence on campus to represent 19% of the student body.

To handle that uptick in numbers, the campus has welcomed new fraternities and sororities to establish chapters on campus. Just last spring, Lamba Chi Alpha launched with 30 founding fathers after a year-long selection process by AU's Interfraternity Council.

Now, the women's Panhellenic community is poised to welcome a new sorority in the spring, bringing their total to eight chapters.

"We haven't extended in twenty years," Burrill says of adding the new group. "So, it's pretty significant."

Just because the university is adding two groups, however, doesn't mean there aren't other national fraternities trying to get on campus.

"We have seven other men's groups that want to be here. We're a place [where] people want to be. There's no question there," says Burrill, who was recently named Greek Life Administrator of the Quarter by Tau Kappa Epsilon.

Right Place

While there's no question groups may want to be here, Burrill also thinks there's no question as to why they would want to be at AU.

"People see a real value in American University," he explains. "We're an academically rigorous institution. We enroll great students, our enrollment numbers keep going up, we're growing. We're in the nation's capital…We're putting our resources into the student experience. I don't think that goes unseen."

Rachel Jones is a Chi Omega sister who also heads AU's National Panhellenic Council Executive Board – the governing body that oversees sororities on campus. She believes the university's location strengthens the fraternity and sorority community on campus.

"There are so many different opportunities in DC, which is one of the reasons why I'm here. I think it's great and really enhances our community," she explains. "A lot of places you can go, and the sorority is the only thing you have. Here, every woman in the chapter does something [else]."

Jones also points out that the fraternity and sorority experience at AU connects students in the groups with a variety of perspectives and experiences on campus – something that, according to her, may be particular to AU.

"The biggest thing that makes us unique is that we do so many varied and diverse things. If you go to any chapter and look at the women in that chapter, you have people interning at fashion magazines, in entertainment and PR agencies, at law firms…people who may be pre-med," she says, currently herself pursuing an internship in with the law firm Patton Boggs.

This diverse set of members and their activities provides vast opportunities for networking – something heightened by the striking number of fraternity and sorority alumni living in the nation's capital.

Value Added

Whether in the groups' networking – which landed Jones her internship – their philanthropy work supporting specific charities, or their high academic standards, Burrill sees any number of explanations for AU's vibrant fraternity and sorority presence.

"People see the value in it," he says of the growth. "They see the GPAs being higher. They see the social side of it. They see the leadership development pieces of it. On this campus, it's very visible that we have a thriving Greek community here."

For all those reasons, it's a community that typifies what AU is all about, and it's one that students will continue to see the value in as it grows and welcomes new members to its ranks.