First Person
Student Diary: Meeting Obama and Clinton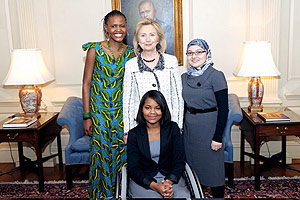 Growing up in a poverty-stricken orphanage in war-torn Tigray, Ethiopia, I spent most of my days dreaming. My dreams, mostly about escaping my situation, were tempered by hunger and concern for getting the basic necessities for daily survival. 
When I came to America to my adopted family, I was given the opportunity to think beyond the burdens of the orphanage and begin to dream about what I might become. But even then, I never thought I would one day rub elbows with some of the world's most powerful women. 
Yet on March 8, 2011, I found myself shaking hands with Michelle Obama, chatting with Hillary Clinton, and losing myself in a sea of women diplomats, politicians, advocates, and activists. This remarkable day led me to a realization of what true power is, where it can be found, and how women all over the world can wield it.
I owe many thanks to economics professor Caren Grown who provided me with the opportunity of a lifetime by nominating me through USAID to attend the 2011 International Woman of Courage Awards.

Meeting Michelle Obama and Hillary Clinton
On March 8, I awoke with anxiety and anticipation of what was to unfold. At the Department of State, I was escorted by a security guard to a large auditorium. On stage there were flags from around the world. Staring into the sea of smiling faces, I saw that for some, like me, this experience was not yet quite believable.
When I found professor Grown she introduced me to two other students—one from Afghanistan and the other from Kenya. These two young women had remarkable stories and experiencing this day with them made it even more of a highlight. 
Then there was an announcement to take our places. A deafening silence covered the auditorium until Michelle Obama and Hillary Clinton entered the stage with the eight Woman of Courage winners. I listened to every word Hillary Clinton spoke. Her words of encouragement, inspiration, and hope flowed through the auditorium. But my gaze was on Michelle Obama. I studied her every movement, posture, and reaction. Mrs. Obama has been my inspiration, a figure I admired from afar, and now I was so close.

Women of Courage
I heard the Woman of Courage recipient's stories with awe.
These women will change the course of history, they understand the price of justice and equality. These women are warriors willing to die—not fighting for a country with bombs and guns—but as human rights activists whose homes have been bombed, whose lives are in constant threat, who every day fight for justice because it is worth their lives.
Sitting in a room with so much power, hearing their stories made me realize that the true privilege was not that I was meeting two of the United States' most powerful women, but that I was meeting eight of the world's freedom fighters. 
As the ceremony closed with a speech from Roza Otunbayeva, President of Kyrgyzstan, I got goose bumps. The way she wove humor, personal story, and an imperative moral story about leading a nation sparked my intellect as well as my heart. 
At a reception we had the chance to meet the awardees. I was intimidated by this crowd of remarkable people. Having never spoken with a president, when I approached President Otunbayeva and introduced myself with a shaking voice, I was relieved to receive a warm response.
I made my way through the room and met business women and men, congressmen, diplomats and, most importantly, the Woman of Courage awardees: Henriette Ekwe Ebongo of Cameroon, Maria Bashir of Afghanistan, Eva Abu Halaweh of Jordan. I was humbled by their humility. When I said, "You are an inspiration" they replied with warm handshakes and some with heartfelt hugs. Every one of the Woman of Courage I met made me feel a "contagious courage" and provided inspiration that could make any woman believe she is powerful and purposeful. I am thankful.
The day held further surprises. We students were invited to meet privately with Hillary Clinton to speak with her about our most pressing concerns. Then we given the chance to go meet the First Lady.

Inside the White House
I am the biggest Michelle Obama fan I have ever met! Being in the White House when only ten years ago I was in an orphanage, was almost beyond comprehension. The event left me with hope and ideas for what I might contribute to the fight for justice.
I would need the rest of spring break to process what I experienced, but I was proud that I made the hard but rewarding decision to transfer to American University. This opportunity from AU let me see and draw inspiration from the heroes of the 21st century—women who risk everything so justice might have a chance to prevail. 
The remarkableness of that day, it turns out, was not my visits with the powerful women of the White House, but the lesson that true power is more subtle. It may be found in the courageous commitment and uncompromising actions of lesser known women who put their lives at risk for human rights. May we all embrace that truth and the possibilities it offers us for using our power to make real change in our world.