Arts
Artistic Survival 101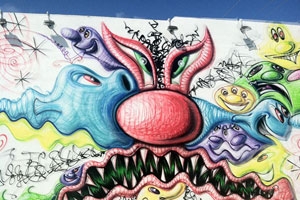 Perched happily above a hubcap-sized Salsiccia gourmet pizza at Joey's Italian Café in the heart of Miami's booming Arts District, Miami pop art guru Chad Hankin, SPA/BA '94, is singing the praises of a transplanted Brazilian artist named Romero Britto.
"I don't think there's any doubt that Britto is the most successful neo-pop artist in South Florida," says Hankin, a 40-year-old whiz-kid hotel services provider with a passion for collecting modern art.
"What Britto has done," says Hankin, a frequently quoted South Florida art aficionado and local gallery entrepreneur, "is to create a look that simply says: Miami. And what is that look? It's bright; it's sexy; it's playful . . . and it refuses to take itself too seriously. That's the spirit of contemporary Miami — and I really don't think it's an exaggeration to say that Miami is rapidly becoming the new New York, when it comes to creating art that perfectly embodies a city's persona."
For Hankin, a former AU political science major who worked as an intern in the White House of the first President Bush (1991–92), the growing trend toward blending pop art with commerce is a healthy sign of cultural vibrancy. Hankin fell in love with business 15 years ago and has been having a blast as a hospitality entrepreneur ever since.
"Let's face it, the things that artists make are products," says Hankin, CEO of Hankin Enterprises, "and like any other products, they have to be marketed effectively if they're going to reach a wide circulation.
According to Hankin whose upscale restaurant and hotel franchisees often pay premium prices for art that adds value to the premises, knowing how to parse the complex relationships between art and commerce is essential for both business entrepreneurs and artists.
The passionate collector of modern art ticks off several market-wise approaches he says are essential for success:

Get out of your studio and start connecting with the world around you  . . . especially with the people who are building the new urban infrastructure—the developers, the retailers, the hospitality entrepreneurs—which is transforming South Florida. "The days of the isolated artist working alone in his garret are over. Creative collaboration is what it's all about."
Form collaborative partnerships with other artists (a powerful new trend in the Wynwood Walls District) . . . so you can cut studio costs and also merchandise your art products to the max.
Understand the tone, the style, the personality of the marketplace in which you're trying to sell your work.  "The Miami of 2012 is an international city where Latin American and European and Asian cultures are all blending into South Florida's traditional culture at a dizzying rate of speed; the local art scene is changing along with it.
"Today's Miami art is cutting edge, sexy, international. And above all, it's indisputably modern. It's America's new multinational city, and our art reflects that."