Achievements
Student Team Wins Deloitte's Case Competition
Undergraduates Competed Against Regional Schools in "Battle of the Beltway"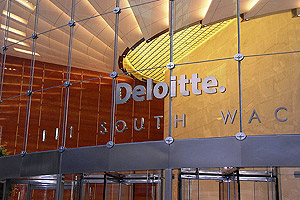 A team of four undergraduate students  won Deloitte's Battle of the Beltway Federal Consulting Case Competition last week, earning interviews for the company's summer internship program.
The regional competition is held each semester and prompts students to address a real-world federal consulting issue.
This year's challenge: within the next three years, find a way to screen 100 percent of all goods entering U.S. ports.
Over 200 million cargo containers move between major world seaports each year, and half of trade arriving to the U.S. comes by ship, making containerized shipping vulnerable to terrorists, according to the U.S. Customs and Border Protection. To address the vulnerability, the agency created the Container Security Initiative (CSI) to pre-screen containers in foreign ports before they arrive to the U.S.
The AU student team, comprised of two Kogod students, one SOC and one SPA student, ultimately decided it would be impossible to screen all incoming goods in three years, but that there was an out-of-the-box solution. 
The group advocated for: 100 percent participation in CSI by 2020, to establish a global standard for container security, and to invest in security technology.
"We spent hours upon hours doing research and debating back and forth the best manner to solve the issue," said Christian Kingston, BSBA '12. "We ended up sending in our presentation at 5:22 in the morning the day it was due, after we had cut a few sections into our appendix to make sure we met the time limit."
"Each of us came with different strengths, all having different majors as our backgrounds," said Leigh Cramer, BA/SOC. "It felt creative; it felt overwhelming; it felt challenging; but mostly it felt fun."
Preliminary Rounds

Each school hosted its own preliminary rounds to determine which team would represent the university. The winning groups advanced to the final two rounds at George Washington University on November 4 and 5. Principals and analysts from Deloitte judged each team's 15-minute presentation and 10-minute question and answer session.
"This is the second year we've had an AU team compete in the final round, and after witnessing their hard work and dedication for two solid days, it is extremely rewarding to celebrate their accomplishment," said Annie Matanin of Kogod's Center for Career Development; she worked with the student team.
The competition is an opportunity for students to develop their analytical and reasoning skills, to gain experience, and to network with Deloitte representatives and students at other schools, said team member Dhruv Sarin, BSBA '12.
Opportunities like this one let students showcase their talent, said Julie Neill of the Kogod Center for Career Development.
"It doesn't matter what school you come from, what your major is or even what your GPA is," Neill said. "What matters is the substance and style of what you present. The competition is a chance to show industry representatives what you can bring to the table."
Standing Out

To snag the win, the Kogod team beat out a second group from AU and groups from Princeton University, Georgetown University, George Washington University, Howard University, University of Richmond, Wake Forest University, and the College of William and Mary.
"From the feedback we received … the two things that made our presentation stand out were our slide design and an appendix that showed all our additional research and slides," Sarin said. "When we were asked questions, we were able to back up what we were saying by our research."
At first, team member Sam Hagedorn, BA/SPA '12, worried he wouldn't know how to begin in the competition since he is not a business major.
"But I really enjoyed working with my team to solve the complex problems," Hagedorn said. "Just from the two weeks of the case competition, I think I learned a lot about how to apply what I've learned at American to the real world."
"Everybody should do the case competition next year."