Internship at the Washington Post an Unforgettable Experience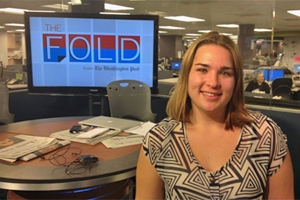 Below is a first person account from Dean's Intern Rachel Jacobs on her fall internship at the Washington Post.
In 2008, I remember sitting on my couch with my dad at home in California watching the general election results come in. As I was taking notes to write a segment for my high school news show, he turned to me and told me that I would help cover the next presidential election at an important and influential news organization. At the time, I thought he was crazy, but I'm so happy he was right.
I will never forget where I was on Election Night 2012. Helping The Fold crew and the rest of the Washington Post video team create 7 hours of live coverage felt like a dream come true. In the week leading up to the election, The Fold's host, Brook Silva-Braga, approached me about creating graphics for election night coverage. That week, I created over forty graphics pending the possible outcomes called by the Washington Post decision desk.
Being a Dean's Intern means having the opportunity to complete tasks beyond the typical "internship." By having the chance to produce segments for The Fold, create motion graphics for the newscast, and by interacting with a great group of talented journalists, my Dean's Internship has increased my passion for video news production and improved my skills in the process.
A few weeks after submitting my SOC Dean's Intern application, I received a response from the Post about interning on a nightly news show titled The Fold. I was told that the show was going to be geared towards Google TV users and focused on creating a new way to watch the news. Coming into this internship, I wasn't sure what I was getting into, but my experiences thus far have been beyond my expectations.
As I walked to my desk one Friday morning, I was told we had interviews lined up with third-party presidential candidates Gary Johnson and Virgil Goode. We were down two producers that day, and I was asked to perform a number of different duties. I greeted the candidates and their aides at the entrance of the Post, brought them upstairs to the live shot studio, filmed B-roll, ran audio, and then edited one of the interviews into a segment for the show that night.
Filming, editing, exporting, uploading, attending meetings, and then meeting a 6PM deadline is a challenge, but it's what I have learned to love. As I ride the elevator up to the fifth floor of the Post during the two days a week I work, I don't know what the day will bring. I love that. Once the day comes to an end, being able to leave the building with a sense of accomplishment is a unique and exhilarating experience.
I believe that carrying the title of an SOC Dean's Intern on top of my past experience helps explain why the Washington Post has treated me as a young professional. Seeing my name in the producer credits next to the rest of the team, working with a friendly and talented group of people, and knowing that I am taking part in a new idea for a leading daily newspaper, I can't help but put a smile on my face.