Journalism
What Is Obama Like? White House Reporters Share Views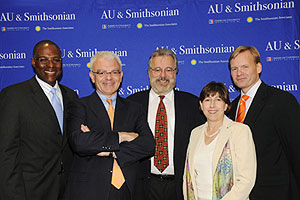 White House reporters shared an insider's view of Barack Obama as a reserved man who is "not Mr. Charisma 24 hours a day" and opened up about the frustrations of today's news business at a freewheeling panel that was part of AU's new collaboration with the Smithsonian.
The reporters at the packed event at AU's Greenberg Theatre all have well-recognized bylines, faces and voices: NPR's Don Gonyea, the New York Times' Sheryl Stolberg, John Dickerson of Slate magazine, and Dan Lothian, SOC/MA '88, of CNN. The moderator was adjunct professor Kenneth Walsh, SOC/MA '70, of U.S. News and World Report.
Is the Obama White House making good on its promise to be the most transparent White House in history? Well, yes and no.
The White House certainly puts out a lot of information. "It's a fire hose from them," said Dickerson. "There's a lot of information out, and it's not all high quality information."
Nor is there time to evaluate it, given the pressures of the on-line world. "The enemy of completeness and depth is speed," said Stolberg.
She told of colleagues on their Blackberries during briefings, tweeting and monitoring the tweets of other reporters in the room and filing reports even before the briefing was finished. The pressure to get something — anything — online quickly "is crazy," she said. "This is not a way to live."
While this White House is arguably transparent, access to the president is limited, they agreed. Obama, for instance, has not held the off-the-record briefings that were frequent with Bush, who frustrated reporters by not speaking on the record but also provided many glimpses of his decision-making process through casual encounters that Obama has not allowed.
"With President Bush, I did feel I got to know him a little bit," Stolberg said. But Obama remains reserved and distant, although his advisors are accessible when it's in their interests.
What have they learned about Obama that the public doesn't know?
"He's kind of a boring guy," said Gonyea to widespread laughter.
"He doesn't seem to need other people besides his family and close friends," Stolberg agreed. "He doesn't crave attention from the public the way Clinton did."
"With Obama it always feels like there's that thick bullet-proof banker's glass," Dickerson said.
AU's new partnership with the Smithsonian is "an exciting collaboration" that has "given the Smithsonian an opportunity to move away from the mall and reach out to Washington," Barbara Tuceling, director of the Smithsonian Associates, told the audience that packed AU's Greenberg Theater.