Environment
EPA Holds Technology Market Summit at AU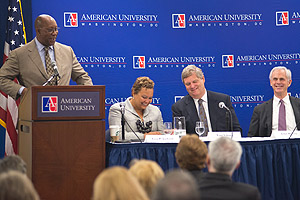 American University's Center for Environmental Policy and the U.S. Environmental Protection Agency hosted a Technology Market Summit May 14 at AU that brought together top decision makers from government, industry, academia, and investment. Analysts agree that  any future energy strategy must embrace energy efficiency.
Here's how else they weighed in:

EPA administrator Lisa Jackson: 

Stat: Environmental firms and small businesses in the United States generated $310 billion in revenue in 2010, which supported 1.7 million American jobs. It's an $800 billion worldwide market, and over the next few years experts foresee a 7 percent growth rate.

"Our president has made clear that strengthening the economy is the defining mission of our time in office.  At AU a few weeks ago, I talked about the fact that we can have both — the economy and the environment thriving. Environmental protections are not free, but the money spent to implement them is an investment in our country's future."

Tom Vilsack, secretary of the U.S. Department of Agriculture:

"We will be a government over time that will spend less, but we can't afford not to continue to spend in education and research. It gives us the capacity to continue to make, create, and innovate products and services that the rest of the world will need and want, which encourages and creates exports, which helps create wealth and jobs here in the United States."

Commerce secretary John Bryson:

Stat: The $2.1 trillion in goods and services the U.S. exported in 2011 was an all-time record.

"From 2009–2011 the number of export-supported jobs increased by 1.2 million, in an economy in which jobs are all important; this export work is vitally important to the people of our country."

U.S. trade representative Ron Kirk:

Stat: Last year U.S. exports of environmental goods and services were a record $2.1 billion.

"It tells us, if we are attentive to having strong environmental provisions and text in all of our trade agreements it really does help. It becomes the avenue by which we take these new products and [both] change the way we do business in the United States and leverage the opportunity to share them with our colleagues around the world."

For Kirk, the summit was a happy return to AU.  "AU doesn't just preach environmental stewardship and environment responsibility, they live it. We were here for Earth Day last year on the roof of a building with a solar panel distributor. It's AU's goal to be the first [carbon neutral] university. They are not only teaching and preaching and helping to spur the next thought in this, they're also leading the way."

Mark Fulton, managing director and global head of climate change investment research at Deutsche Bank and conference keynoter:

Stat: Deutsche Bank has no doubt that climate change is real and that its effects grow worse by the day. "So regulation is totally crucial." It helps bring certainty to markets.

Energy investors, Fulton said, need TLC — transparency, longevity, and certainty and consistency. That means, assurance that clean energy policies will have longevity and certainty and consistency around incentive and project financing.

"Some of us feel the EPA is the last backstop . . . because we aren't going to get a carbon market anytime soon and the incentives are under massive pressure," Fulton said. "One person's regulation is another person's market.  (The EPA is) creating markets when you regulate; policy makers are creating markets when they incentivize.  This is about making money, about superior risk-adjusted returns."

Fulton further noted that Deutsche Bank analysts aren't keen on the future of coal as an investment, and they have reservations about oil. They're bullish on natural gas. "Fracking is going to happen. It's going to have to be done properly."