International
Speakers Focus on Media Suppression in Latin America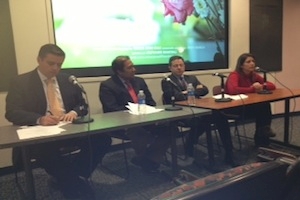 The story of media suppression and violence came to American University on March 26, with a sneak preview of the documentary Uncensored and a panel discussion about violence against the media in Colombia and Latin America.  This event was part of the International Media Speaker's Series.
"It's important to remember what happened in Colombia, and even though conditions have improved there, how those methods were used elsewhere too," said Juan Carlos Lopez, who moderated the panel event.  Lopez is an anchor for CNN en Espanol.

Students from the School of Communication and faculty from the International Media program participated in the event.  Professor Rick Rockwell, the director of the International Media program, hosted the event. "Although a lot of our international attention is tuned elsewhere in the world, these discussions are important to show how violence is still a concern in Latin America and how it is used to censor the media," Rockwell said. "This documentary project is an important touchstone which shows how a right we take for granted in the U.S. is not so easily gained elsewhere."
"We are working on the post-production of the film right now," Stephanie Martinez told the audience at the event.  Martinez serves as both the reporter and producer for the documentary project. "This film is very important and personal for me," Martinez said, as the documentary also recounts her own family's flight from Colombia.
During 2013, the International Media program's speaker's series has brought in programs that focused on South Asia, Latin America, and global environmental concerns.