Collaboration, Celebration for LGBT History Month
By Patrick Bradley
October 22, 2012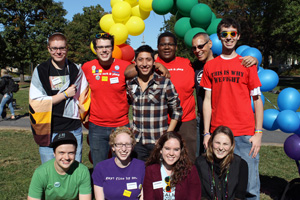 Many Perspectives

AU is casting the net wide this year to celebrate LGBT History Month. From events put on by the university's Center for Diversity & Inclusion to those organized by student groups like AU Queers & Allies, the campus is playing host to a diverse look at and celebration of the LGBT experience.

"We want there to be breadth of topics as opposed to a focus on one type of thing," says Matt Bruno, the Center's coordinator of LGBTQ programming. "I think it's important for people to get a broad scope of what it means to be LGBT."

Bruno and others have crafted a calendar that highlights a number of LGBT-related issues ranging from presentations on the history of the LGBT movement to discussions on immigration, identity development, and bullying.

Community Effort

But the variety of events isn't the only thing that's special about this year's calendar; it's the fact that the campus gathers around this celebration more closely with each passing year. Organizers and cosponsors of the programming include Student Government, the Kay Spiritual Life Center, and the Washington College of Law's Center for Human Rights & Humanitarian Law, to name a few.

Deputy director of AU Queers & Allies Miriam Wolf believes this level of collaboration is exactly how things should – and do – look at an institution like American.

"That's how it should be. It shouldn't just be CDI or Queers & Allies carrying that banner of equality and recognizing the history of this month," she says. "It should be coming from the faiths and different departments. It should be coming from all over the place, people getting together and being involved as one."

AU humanist chaplain and rabbi Ben Biber has shown that involvement, as he was on hand to support students during their Coming Out on the Quad event, which celebrates National Coming Out Day. For him, it's important that AU is a place where students can openly express exactly who they are.

"For a lot of the students to be out in public in a supportive environment is a particularly rare and wonderful experience," he says. "We often discuss sexuality and things like gender identity more in private atmospheres. To have a supportive public space to be in is particularly beneficial."

Wolfe agrees, recognizing that AU's campus climate for LGBT students – ranked highly in the nation – is not something all college students experience.

"On campus here," she says, "people are always accepted, but in other communities they're not. It's really important to take a moment and think about those who may have trouble coming out."

Something in the Atmosphere

AU's uniquely open, supportive environment results from the university's steadfast commitment to social justice, but it also comes from the types of students that AU attracts. They're the engaged leaders who have organized the month's Rainbow Wonk Experience, where students led and moderated a discussion on the LGBT experience at AU, and they're those students seeking to understand others' perspectives by reading the Coming Out Monologues together.

To help students get other perspectives, Bruno is bringing speakers to campus from state-wide organizations like the Family Equality Council and the National Gay & Lesbian Taskforce. He hopes that, through these speakers, students can find inspiration as well as outlets to explore internships and careers in the field.

"I see all of the events that we do as both educational and a way to connect people. I think both are equally as important," he says.

Whether it's in the increasing collaborations or the engaged students and open campus climate, AU will continue to be a great choice for students of all orientations and identities. Just ask Wolf.

"[American] was my first choice," she says. "I got in here early decision. AU just seemed really accepting. It's the most accepting campus in the nation thus far for GLBTQ communities."



To take a look at the month's calendar of events, click here.