International
Peace Corps Ranks AU #2 for Most Volunteers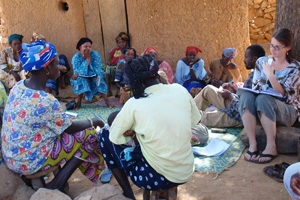 Four thousand. That's the number of trees Racey Bingham, SIS '00, planted in the West African nation of Mauritania during her service as a Peace Corps agroforestry volunteer.
By the time she left in 2003, only one tree remained. It stood in a compound in the village of Vountilly, surrounded by a makeshift fortress locals had made to protect it and keep it alive. Just 10 leaves clung to its branches.
Bingham's relative lack of success with the project could be viewed as a failure, but that's not accurate, she says. It was all part of the learning process that is central to Peace Corps service.
"In retrospect, it's easy to say I was just doing the wrong job. But I only had a certain number of resources — my brain and no money," she said.
When she realized that the tree planting wasn't working, she moved on to other areas where she could help. She worked at the local health post, taught environmental education in schools, and promoted hygiene programs. She learned the importance of flexibility and ingenuity.
Bingham is one of scores of AU alumni who joined the Peace Corps after graduation. The Peace Corps ranked AU second today among medium-sized universities for service among graduates. AU has consistently been one of the top five Peace Corps volunteer-producing schools for years.
Last year, 63 AU alums entered the Peace Corps. The number grows every year. That's not surprising because of AU's commitment to public service, said Gihan Fernando, executive director of the Career Center, which works closely with students who want to enter the Peace Corps.
"AU attracts students who want to be actively engaged in their communities. They want to be involved in issues in the broader world," he said.
A Desire for Public Service
The university has long enjoyed a rich relationship with the Peace Corps. More than 800 AU alums have served since President John F. Kennedy signed an executive order on March 1, 1961 to create the volunteer organization.
AU currently partners with the Peace Corps to offer three Master's International graduate programs in TESOL and public anthropology, as well as an integrated School of International Service offering. MI students combine Peace Corps service with graduate studies at AU. SIS also hosts the Peace Corps Fellows Program for Returned Peace Corps Volunteers.
AU's Alumni Association, SIS, and the Library will host an event in March to celebrate the launch of AU's Peace Corps Community Archive, which will feature archive pieces AU has collected.

"AU has been a high producer of Peace Corps volunteers for years," said Kelly McCormack, Peace Corps spokesperson. "Students have a wealth of volunteer service and a desire for public service as well as a motivation to serve. Not all universities have that."
Christine Hooyman, SPA '10, is one of those AU students motivated to serve.
Hooyman, who is currently working as a community health/HIV volunteer in the Nyamagabe District of Rwanda, knew she wanted to travel to new places and experience different cultures since she was a child. Studying at AU helped deepen her curiosity, she said.  
"AU really fosters an environment that encourages us to examine our greater community and take an active role in creating change," Hooyman said.
Like many AU Peace Corps volunteers, Hooyman's first experience living overseas was during a semester abroad. While studying in Kenya through AU Abroad, Hooyman experienced development work up close.
"So many Kenyans I encountered were so passionate and committed to the development of their country," she said. "It reinforced my desire to be a part of the development process. The Peace Corps seemed like the next logical step."
Hands-on Job Training
Like Hooyman, Bingham also spent a semester abroad and knew she wanted to live overseas again. She didn't know anything about the Peace Corps until she went to a talk on campus given by the organization's then-director.
"It was so inspiring and I thought it sounded great," she said. "After I applied and got my placement, I had to look on a world map to figure out where Mauritania was."
After three years in Mauritania, Bingham returned to the U.S. to pursue graduate studies. She moved back to Africa after graduate school — this time to Mali — as a fellow with the Congressional Hunger Center.
That hands-on work in rural agriculture in Africa led her in the direction of her primary occupation as a farmer in upstate New York. She also consults on agricultural issues for the World Bank.
"My love of farming actually came from the Peace Corps," Bingham said. "I learned how important agriculture is for marginal populations. That set me on the agricultural path professionally."
In that way, the Peace Corps is some of the best job training around, Fernando said. Not only does it teach substantive skills like language expertise, teaching strategies, and healthcare practices, but volunteers also learn less quantifiable skills like independence, adaptability, and cross-cultural understanding.
For AU students wanting to work internationally, the Peace Corps offers something that's hard to find as a new college graduate — work experience abroad. The Peace Corps helps make alums more competitive in that marketplace, Fernando said.
Hooyman is hoping that's the case. She would eventually like to work in international development focusing on Africa.
"Peace Corps has allowed me the opportunity to integrate with a community to a degree that no future job in development ever will," she said. "I want to take the lessons learned from community-based development and apply it to wherever I end up."