Government & Politics
First SPA Boot Camp Reinvigorates Skills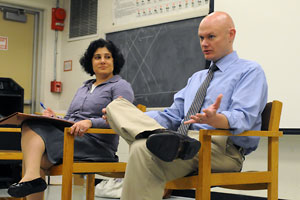 Lisa Shuman last sat in a college classroom five years ago. As an incoming master's of public administration student she wanted to hit the ground running, so on a sweltering mid-August weekend, she enrolled in boot camp.
This particular camp, held for the first time by AU's School of Public Affairs, took place in the friendly confines of air-conditioned Beeghly Hall. Roughly 70 incoming MPA and master's of public policy students spent three days reinvigorating the math and economics parts of their brains.
"This is a way for students to brush up on some of the math they'll have to use in detail and some of the principles of microeconomics," said Alison Jacknowitz, director of the MPP program.
In addition to working through equations, reviewing probability and algebra, and re-examining economics, students listened to lectures from their future professors and mingled with their future classmates.
"It's nice to meet people before school," said Raesah Et'Tawil, an MPA student. "You can figure out who's good at [math and economics], so you can hit them up for help."
All joking aside, the weekend proved invaluable to many like Shuman, who graduated from Syracuse University with a bachelor's degree in political science.
"I've taken a few econ classes, and I'm generally okay in math," she said. "But it's always good to get in a review."
MPP student Katie Sinks agreed, "It never hurts to be refreshed beforehand so you can be on the ball when it really counts."