Government & Politics
Roger W. Jones Winners Recognized for Service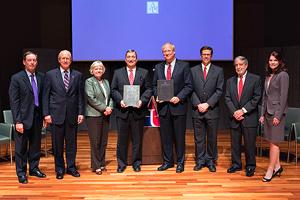 American University's School of Public Affairs presented its annual Roger W. Jones Award for Executive Leadership to Thomas L Mesenbourg, Jr., Acting Director, U.S. Census Bureau; and David Wennergren, Assistant Deputy Chief Management Officer, U.S. Department of Defense.
"The superior leadership demonstrated by Thomas L. Mesenbourg and David Wennergren has led to the improved quality of government services to Americans. Additionally, they have guided the careers of the next generation of federal employees, assuring that the high performance they exemplify will carry forward into the future." said Barbara Romzek, dean of American University's School of Public Affairs. "They epitomize dedication to public service, and we challenge our students to strive to emulate these two outstanding individuals as they embark on their future careers."

Former U.S. House of Representative Mickey Edwards (R-OK), who currently serves as vice president at the Aspen Institute and is the author of the recently published The Parties Versus the People: How to Turn Republicans and Democrats into Americans delivered the keynote address "How to Turn Republicans and Democrats into Americans."

Since 1978, the Roger W. Jones Award for Executive Leadership has recognized public servants in the federal government whose careers are marked by extraordinary effectiveness in organizational development and a strong commitment to training and educating managers and executives. In appreciation for his/her outstanding service, each recipient receives $2,500.

Thomas L. Mesenbourg, Jr., Acting Director, U.S. Census Bureau 
For four decades, Thomas L. Mesenbourg, Jr. has been a champion of change, applying innovative solutions to the challenge of measuring the United States' diverse and evolving population and economy. Mesenbourg became the deputy director of the U.S. Census Bureau in 2008. Faced with unforeseen budgetary and technological hurdles to overcome in order to embark on the 2010 Census, his leadership and innovation led to the bureau partnering with 270,000 groups and hiring in excess of 600,000 enumerators to reach out to the millions of Americans who did not complete and return their census forms.  

Throughout his career at the U.S. Census Bureau, Mesenbourg has fostered numerous initiatives to change how the bureau conducts its business, from creating a program to enlist employee suggestions to improving operational efficiency to overhauling the bureau's regional office structure. Under his leadership, the bureau has been able to significantly expand its economic statistics programs, including electronic survey reporting and the introduction of a new economic indicator and new e-commerce statistics.

"I believe that a democracy is driven by data. As the nation's fact finder, the Census Bureau provides the facts that policy makers and other stakeholders need to make informed decisions," said Mesenbourg. "The experience of leading the 2010 Census reinforced for me the importance of building the next generation of leaders. We must ensure that future leaders have the opportunity to work on different programs, face different challenges, and have diverse experience they need to face an ever more challenging future."

David Wennergren, Assistant Deputy Chief Management Officer, U.S. Department of Defense 
David Wennergren's performance during a long career in the federal government has earned him the unofficial title of "chief change maker." Wennergren's relentless efforts to bridge organizational boundaries and rally stakeholders to work toward common goals are among his greatest skills. For example, he helped persuade the Department of Defense and U.S. Department of Veteran's Affairs to adopt a common health record system which will significantly improve health care delivery for current members of the military, veterans, and their families. Additionally, through his powers of persuasion, he convinced federal agencies to align to a common set of computer security controls which serve to enhance network security, minimize costs, and enable vendors to develop products that are shared across agencies. Also among his achievements is the deployment of the Common Access Card, a smart-card in use by 3.5 million employees to access computer networks and military bases around the globe. The Common Access Card has resulted in a reduction in labor-intensive paperwork and improved physical and information security.

Wennegren's software initiative alone saved more than $4 billion for the Department of Defense due to the consolidation of licensing agreements. The General Services Administration has adopted the model.

"Leadership comes down to two things: Are you a positive force for change, and do you recognize the power of team," said Wennergen. "Leaders have to help their workforce evolve, and that means getting them to understand why things need to change and to feel invested in the process. Embracing change also means grooming the leaders of the future."
 

Roger Jones and the School of Public Affairs
The award is named for Roger W. Jones (1908–1993), a leader in federal government for more than four decades. Jones served as chairman of the Civil Service Commission, deputy under secretary of state for administration, and senior consultant and special assistant to the director, Bureau of the Budget. His service was distinguished by his ability to lead change based on the belief that government can mobilize human talents to accomplish goals.

Founded in 1934 and ranked among the top schools of its kind, American University's School of Public Affairs offers education on the undergraduate, graduate, and executive levels in the fields of government, justice, public administration, public policy, and organizational development.

The School of Public Affairs engages faculty and graduates who are active in global policy legislation and advocacy. The school is home to research centers and institutes in the fields of political science, public administration, public policy, and justice. It is the only school of its kind with three accredited degrees—the MPA, MPP, and Executive MPA—by the National Association of Schools of Public Affairs.
 
Pictured above from left: Robert Tobias, dir. AU Key Executive Leadership Programs; David M. Walker, Roger Jones Selection Committee Chair and former U.S. Comptroller General; SPA Dean Barbara Romzek; Thomas L. Mesenbourg, Jr.; David Wennergren; Dr. Mark Doms, Under Secretary of Commerce for Economic Affairs; keynote speaker and former member of Congress Mickey Edwards; and Elizabeth McGrath, Deputy Chief Management Officer, DOD