On Campus
Wonk Era Dawns at AU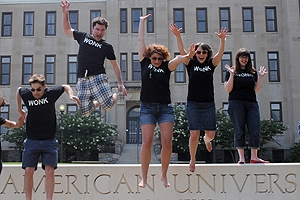 How does one get to know the essence of an entire community?
At American University, the answer was found in the jumbled letters of a key word in the very question.
Know. Hold it to a mirror and "wonk" stares back at you.
Allow Urban Dictionary to shed a little light on the term.

Wonk: Noun – An expert in a field, typically someone who is fairly young and very intelligent.
"It's one of those words that sort of grows on you after you first hear it," said Jenna Bramble SPA/BA '09, SOC/MA '11. "It's a quirky word, and not to say that American University students are quirky, but we're unique. We're a lot different than our counterparts at other schools. Our students are more active, community-oriented, and focused on the world around them."
AU's wonkification began two years ago, when University Communications and Marketing (UCM) was charged with developing a way to convey the true AU—a vibrant, thriving, university with talented faculty and students passionate about creating meaningful change—to the world at large.
Among its first steps was to hire the marketing strategy firm SimpsonScarborough, which conducted thousands of surveys and hundreds of interviews with student, faculty, alumni, and staff stakeholders to identify AU's possible distinctive characteristics.
Using that information and boatloads more, a university marketing advisory committee comprising the provost, deans, faculty, staff, and students recommended a campaign focused on three messages: active citizenship, learning from leaders, and Washington as a powerful lab for learning.
One day after countless hours of creative heavy lifting in its Tenley Campus war room—an erstwhile conference room transformed into a creative oasis complete with bean bag chairs and a hip-swaying Elvis clock—a UCM team rediscovered a cartoon Nate Beeler, SOC/BA '02, drew for a 2008 edition of American magazine.
"In the course of brainstorming, I [created] a sketch partially built off why people flock to D.C. and AU," said Beeler, editorial cartoonist for the Washington Examiner. "I thought about birds of a feather flocking together, and the sounds that birds make. People in D.C. wonk, they don't squawk. I came up with this image of men and women sitting on a telephone wire [near the Washington monument] like birds, going 'wonk wonk wonk wonk wonk wonk.'"

Wonk: A hard-working, intellectually curious person; expert in a field; A knowledgeable Washington insider; Someone focused on an issue and passionate about creating meaningful change in the world.
"The term can apply to anyone because it's a smart person who's incredibly passionate about what they do," said Beeler, a self-described journalism wonk. "D.C. attracts that kind of thing, and AU is the perfect place for it. It inspires this passion in people that was there to begin with—it only increases it."
Wonk. Succinct; catchy; encompassing. But not without its challenges. How would it play to the multitude of varied campus constituencies?
UCM developed the campaign and presented it (along with another option) to the marketing advisory council.
"The wonk concept reflects the creativity and energy embodied at AU," Provost Scott Bass said. "It is a fresh perspective on the individual students and faculty who are driven by their passion for an idea, a cause, or an insight."
After the president's cabinet delivered its seal of approval, it was on to the Board of Trustees Communications Committee.
"There was great enthusiasm because the campaign was bold, fresh, innovative, creative, unique to, and distinctive for AU," said Trustee David Drobis, chairman emeritus of Ketchum, one of the largest and most geographically diverse public relations agencies in the world. "We will stand out. Our committee, composed of many people with strong communications experience, was excited about the many possibilities for this concept. Differentiating AU from our competitors is key to our marketing and branding efforts and the wonk campaign does that beautifully and very boldly."
Wonk was a hit.
As the campaign evolved, teams of undergraduate and graduate students were hired to help figure out how to introduce the concept to their classmates. They spread the word about wonk through Twitter, Facebook, other social media, and old-fashioned word of mouth.
A Web site was developed. T-shirts were given away. Man-on-the-street interviews were conducted. All of sudden, it seemed like you couldn't open the Washington Post or flip on Meet the Press without seeing or hearing it.

A world of wonks came into its own.
"It's the juxtaposition of 'wonk' to its mirror image 'know' that in many ways is the most intriguing," AU president Neil Kerwin said. "Ultimately universities are about knowledge—creating it, transmitting it—and wonk is about the application of that knowledge across the disciplines in socially beneficial ways.

"I want the brand campaign to bring people to the university to learn more about it. As such it needs to be compelling, it needs to be a message that is true to the fundamental mission and accomplishments of this institution, and I think this campaign does that.
The key is to ensure people are sufficiently interested [after] being exposed to the campaign to dig deeper about American University, because we're virtually certain that once they do, they'll like what they see."
The Wonk Era at AU is in its infancy. As the campaign grows, it will do so as it was hatched—in a calculated, collaborative, and focused manner.
"In the end, wonk is just a hook that allows us to capture attention and deliver our messages about what makes AU so special and distinct," said executive director of communications and marketing Terry Flannery. "And it does that really well."