Internships
A News Team Needs More Than Reporters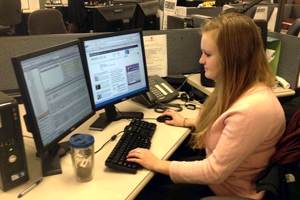 Below is a first person account from Dean's Intern Anna Scalamogna on her internship at The Washington Post.
View Scalamogna's infographic showing the varied roles Dean's Interns play in bringing a story to life

When people asked me this semester what interning at The Washington Post has been like, I usually smile and respond with "Everyone at the Post is so cool."

Every time I've walked through the doors of the Post, I'm overwhelmed by the individuals I meet. Everyone at the Post, from editors, to reporters to designers to photographers, is talented and intelligent.

Meeting the faces behind one of the world's top newspapers has been one of the most valuable experiences I've had during the internship. I believe if you want to be one the best you have to learn from the best. Surrounding myself twice a week with this group of people has been motivational, inspiring and more educational than any class. Fortunately, my position at the Post allowed me to interact with a fair share of these individuals every day.

My internship at the Post was not glamorous. I worked as a web producer in the local section. To most outside, and even some inside a newsroom, web production is a bit of a mystery. Essentially, web
production is running a website.

My main job was to prepare the print stories for the next day's paper for web. It sounds a lot simpler than what it was. Throughout the day I watched the budget change noting which stories were being held, which were being cut and which stories were being added. I worked with other web producers, editors, photographers and designers to make sure the proper elements were added to each story. I searched for related stories and additional content to enhance each story I came across.

This position allowed me to be in the newsroom at all times. I witnessed breaking news being reported live during the bombings at the Boston Marathon. I saw reporters win Pulitzer Prizes. I attended a handful of caking, where people gathered to speak about and honor someone who was leaving the Post.

Each time one of these events occurred there was an incredible sense of camaraderie and pride. While I didn't leave the Post with any bylines, I left with a greater appreciation for what goes on behind the scenes. There may be one name at the top of an article, but it's likely a dozen people have had a hand in bringing that story to the audience. The story passed from the reporter, through a string of editors, to the copy desk, to the photo editor and possibly a designer before it reached me. To know that I had a small role in dozens of stories makes up for not having a byline.

My internship at the Post changed the way I look at newspapers and the hundreds of people who work together to bring news to the public everyday. I no longer think the best of example of teamwork is in a
sports arena, it's in a newsroom.