Government & Politics
Republican 'Young Guns' Detail Agenda at AU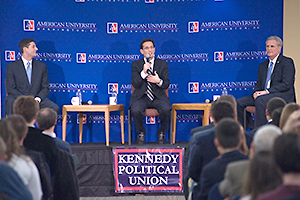 They're brash, idealistic, and on the brink of assuming power following November's "Republican Revolution."
Representatives Eric Cantor, Kevin McCarthy, and Paul Ryan — the GOP's so-called "Young Guns" — visited American University on November 29 to share their vision of how they'll run the House during the 112th Congress.
The trio, whose book Young Guns: A New Generation of Conservative Leaders has spent time on the New York Times Bestseller List, spoke during a town hall meeting.
"The great thing is we are here with hundreds of college students and really the future of America," said Cantor, the House majority leader-elect. "What the Republican majority in Congress is going to be about is changing the way Capitol Hill works so we can pave the way for a better future for these youngsters."
Economic issues took center stage. The (somewhat) young leaders came out with guns blazing, firing rhetorical jabs at President Obama, the Democrats, and their policies.
"Republicans didn't win the majority — Democrats got fired," said McCarthy, a white-haired Californian poised to become the House majority whip. "They got fired for the same reason Republicans got fired in 2006. They overspent."
Ryan, a Wisconsinite who studied in AU's Washington Semester program, is slated to become chairman of the budget committee. His "Road Map" for reducing the national debt has garnered much attention among policy wonks.
"We want economic growth, job creation, and fiscal responsibility," Ryan said. "Spending is out of control. We are hoping the president will see somewhere he can cut spending with us. The question is, does the White House see what happened in the last election and make a course correction? Will they try to meet us? We owe it to the country to give them an alternative."
Though questions from the hundreds in the Mary Graydon Center covered topics ranging from immigration to term limits, the meeting clearly focused on the economy, (stupid). The impending battle over whether to extend the Bush tax cuts is of particular importance, the men said.
"I think most Americans would say, young, old, Republican or Democrat, right now let's let the people who've earned the money keep it so they can put it back into the system so they can create jobs," Cantor said.
While Republicans are hopeful they can find some common ground with Obama and work with Democrats, they admit that on issues like health care there simply are fundamental differences.
"As far as the health care bill is concerned I think most Americans understand that is a bill that will not only bankrupt this country, it will bankrupt the states," Cantor said. "It'll change health care for those who have it to something that is unrecognizable. You can count on the Republican majority putting onto the floor a repeal bill."
The event was sponsored by the Kennedy Political Union, College Republicans, and Center for Congressional and Presidential Studies. Prior to the event, which was broadcast on C-SPAN, Fox News's Greta Van Susteren interviewed them for her show, On the Record.