Arts
Providing Access to the Arts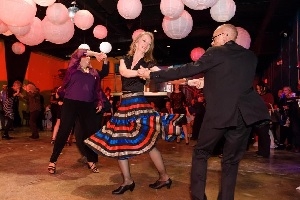 When Brooke Kidd's friends mentioned they needed a dance space to rehearse, she answered the call. Kidd, who graduated from AU with two bachelor's degrees in '91—international relations and an individualized degree from the College of Arts and Sciences combining dance and African studies—and a master's degree in dance in '98, founded Joe's Movement Emporium as a response to a community need.  
With some experience working for nonprofits and a desire to start a community-based performing arts center strong in dance, Kidd launched Joe's in 1995. She chose the community of Mt. Rainier, a small community on the border of Washington, D.C., in Prince George's County, Maryland, as the home base for Joe's due to its need for arts education. "I intentionally chose a community near D.C. that had problems with access to the arts," she says.  
Kidd came up with an idea for a space like Joe's after traveling as an undergraduate to Cameroon, where she saw examples of performing arts centers that were more "open-door-oriented" than a large facility. She enrolled in the master's program for dance to further develop her ideas about dance education, especially teaching it in a community setting. She managed a teaching contract as a graduate student staffer for a year that hosted arts classes in 15 different D.C. public housing communities.
Now in its 18th year, the nonprofit performing arts center provides education, production, and artists' services for a collective of 24 professional artist groups. "We're a business environment for arts companies, where they can retain their original identities and share space," says Kidd.  
Joe's started in a single, vacant storefront. Between 1997 and 2006, the organization expanded to three storefronts on 34th Street in Mt. Rainier. In 2007, Joe's relocated to a renovated space in a vacant 20,000-square-foot facility around the corner. The $3.2 million capital project funded three new studios, a large lobby and theater, an arts education center, and five individually leased artist studios. 
While Joe's has grown exponentially since its inception, initially Kidd wasn't sure how the organization would fare. "When you open something like this, you don't know what to expect," she says. "It's an evolving experience." 
The organization offers year-round arts education programs, in addition to rehearsal space, performances, and events of all kinds. "We added an afterschool program in response to the community's request," she says. "This part of the county was lacking out-of-school services for elementary and middle school kids." 
Many of the programs at Joe's center around movement, which Kidd considers an essential part of human development. "People feel so good after moving," she says. "In particular, when working with special populations, you can see the impact even more clearly. Dance and dance-related arts are lifestyles that people can adopt for the long-term; fitness tends to be more sporadic." 
In addition to working with children, Joe's provides dance classes to disabled adults who lead a sedentary life. "With regular movement, their independence and capacity just blossom," Kidd says.
Kidd believes in the equalizing power of dance. "It creates social structures of inclusion that really balance everything. There's no hierarchy in dance," she says. 
That idea can be applied to those who don't consider themselves particularly coordinated. "There's an old African proverb," she says. "'If you can talk, you can sing; if you can walk, you can dance.'"
Kidd continues to stay connected to the university. She is on the Arts Management Advisory Council and has set up a fellowship for students in the Arts Management Program. Master's candidates receive a scholarship plus a stipend to pursue professional projects at Joe's Movement Emporium.