Government and Politics
Conference Examines Collaborative Governance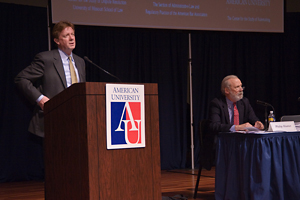 Collaborative governance and the future of regulation were the focus of an April conference hosted by AU and cosponsored by its Center for the Study of Rulemaking.

"The concept of collaboration in regulatory programs is hardly new," said President Neil Kerwin, who opened the event. "Particularly in this era where government responsibility so profoundly exceeds the resources they've been given to achieve [their goals], collaboration is essential."

The conference primarily comprised three panels:

Making Policy: exploring the use of collaboration to set policy
Implementation and Enforcement: considering how collaborative agreements are implemented, and who has what types of obligations
Legal and Institutional Changes Necessary for Collaborative Governance: addressing what changes might be necessary in our current institutions to foster the greater use of collaborative governance

The keynote address was delivered by Philip Harter, a law professor at the University of Missouri and chair of the Collaborative Governance Committee of the Section of Administrative Law of the American Bar Association, both of which cosponsored the conference.