Alumni
AU's Stake In the Twin Cities: Irene Quarshie, SPA/MPP '00
Vice President, Product Quality and Responsible Sourcing, Target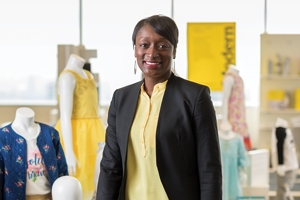 Every day millions of Americans make a Target run. Irene Quarshie ensures that everything on their shopping lists—from clothes to furniture to paper plates—meets the retail giant's standards for product safety, quality assurance, and responsible sourcing.
"I love the scope of my job," says Quarshie, who oversees about 400 employees (or "team members," as Target calls them) around the globe. "It's complex because we're dealing with all product categories, but I love being close to the business and influencing how guests interact with our products and building their loyalty."
The first Target location opened in 1962 in the Minneapolis suburb of Roseville. Today, the company—headquartered in Nicollet Mall in downtown Minneapolis—is the second-largest general merchandise retailer in the country with 1,802 stores and more than 340,000 employees. Even former First Lady Michelle Obama is a fan of the cheap-chic brand. In September 2011, she was photographed cruising the aisles of an Arlington, Virginia, Target; a year later she sported a $39.99 dress by Jason Wu for Target.
"We are known for democratizing style, for making quality, affordable designs available for the average American," says Quarshie of Target's offerings, which frequently include collaborations with high-end designers like Wu.
A native of Montgomery County, Maryland, Quarshie joined Target in 2005. Although she misses her family and her beloved Redskins, she's come to enjoy Minneapolis and serves on the boards of several local nonprofits, including the YWCA. Her focus on philanthropy meshes nicely with Target's corporate culture, which stresses not just selling to people in the community, but serving them as well.
A foodie, political junkie, and Vikings supporter (except when the Skins are in town), Quarshie has grown to love life outside the Beltway: "It's not about working until 3 a.m." The relaxed Midwestern pace, it seems, is right on target.