Student Life
Bin Laden's Death Historic Day for AU Students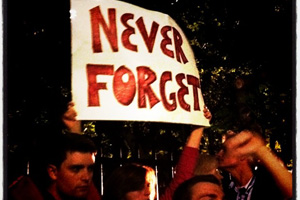 News of Osama bin Laden's death reverberated among American University students late Sunday night into Monday, leading to spontaneous celebrations throughout campus and beyond.
It felt as if everywhere history was in the air. Brendan Pryor '13 was studying in his Anderson Hall dorm room when he learned on Facebook that U.S. special forces had killed bin Laden.
At about 12:30 a.m. he and a few friends jumped into a car and drove to the White House, waving American flags out the windows during the five-mile trip.
"The scene was unbelievable. People were climbing trees and singing, it was a completely unplanned gathering," said Pryor, a justice major. "For a day we weren't Democrats or Republicans. We were all Americans."
Others were so excited they couldn't risk waiting at red lights or in traffic jams, even if some cab drivers were waiving fares, as students reported. David Gregory '92 reported live on MSNBC after midnight that he had just spoken with an AU student who "ran" to Lafayette Park when he heard the news.
Megan Ackerman '11 was one of the first people to check-in on Foursquare at a "Post-Osama Bin Laden World" outside 1600 Pennsylvania Avenue.
"It was a way to tell my friends who were going to be there that I was there," said Ackerman, who uploaded photos from the scene on Instagr.am. "Everyone was screaming for the troops and Obama, and there were even a few people cheering for Bush. It was a purely Generation Y night."
Before he grabbed his camera and headed downtown, Eagle photographer Garry Tam Huang '14 listened to jubilant crowds sing the national anthem on the quad. At the Tavern inside the Mary Graydon Center, television newscasts were met by screams and cheers from hundreds of students.
"There was enormous enthusiasm and catharsis," said Michael Elmore, senior director of the University Center.


GROWING UP IN THE SHADOW OF 9/11
Most undergraduates today were in elementary or middle school on September 11, 2001. They grew up in a world where unimaginable acts of terror were all-too-possible, and the man behind the worst one of all remained free from even the far-ranging reach of the United States.
They are the people a School of Communication class set out to learn more about in "Growing Up in the Shadow of 9/11," a project that coupled an independent survey and original reporting and research to examine the impact of that day on that generation.
"While working on the project, it seemed ironic that so much time has passed since the attacks and not much had changed," said Cara Kelly '11, a master's student in the class. "Nearly half of our lives has been building up to this moment. I believe that is why young people have had such strong reactions to bin Laden's death. It has been one of the only moments in our lifetime that a clear goal has been reached. Our country has been at war for half of our lives, complicated wars without overtly clear objectives. So this is our time to be proud, it is a moral boost for our generation."
For students like Emily Falcone '13, bin Laden's death is a part of a very personal story. Her father was working at the American Stock Exchange a block or two from Ground Zero when the planes hit the towers.
"My father came home covered from head to toe in dust," she said. "It was the first time I ever saw my father cry."
At midnight she called him to discuss bin Laden's death, then headed to the White House to join her generation-mates in celebration.
"At first my roommate and I weren't going to go, but then we said, 'We have to go.' It was the best decision I ever made."
Many students learned bin Laden's fate online, and Twitter was aflutter long into the night.
"The entire @AmericanU shuttle is chanting USA USA USA!!!!!" tweeted Ali Villa Lobos at 11:35 a.m. "Now the @AmericanU shuttle is singing the star spangled banner."
"You know you go to @AmericanU when people are shouting outside as if it was the World Cup!" tweeted Paige Jones at 12:29 a.m.
Monday morning reaction around campus was a bit more measured.
"It was a long time coming," Aurelia Ortiz '13 said at the Mud Box. "I was filled with joy about it but I didn't celebrate as much. Yes, he's dead but the war's still going on. It was a bittersweet moment. There's a lot more work to do."
An uncle of Brendan Walsh '14 was in the World Trade Center on 9/11. Knocked unconscious by a steel beam, he was pulled to safety by a firefighter.
"I was in the Tavern watching baseball when I heard," Walsh said. "I just went nuts. A lot of people in the Tavern went crazy. Everybody was happy, but not for a second do I think it is over. But it is a step."
Post-graduate student Buddy Reed felt "relief" upon hearing of bin Laden's death, but was "disappointed" in the reaction of the crowds at the White House.
"It's okay to be patriotic and happy, but I don't think it's okay to celebrate the death of someone even though it's an evil person," he said.
For Phil Hopkins '11, bin Laden's death is not a bookend to 9/11.
"I feel like we need to remember that the war isn't over," he said.
Ben Mainwaring Jr. '12 was disappointed that bin Laden was killed rather than captured.
"I think it's unfortunate that we couldn't have brought him in alive and brought him to justice, shown the superiority of our legal system," he said.
The first bin Laden-related tweet to mention AU was posted at 10:59 Sunday night by Eric Fleddermann, who wondered whether the al-Qaeda leader's demise might result in finals being called off Monday. It was a common question at celebrations and gatherings everywhere Sunday night, students said.
It wasn't to be. The tests went on, after the life of one of America's most notorious enemies and a remarkable night ended.
Staff writers Adrienne Frank, Charles Spencer, and Sarah Stankorb contributed to this story.