Government & Politics
All Politics Is Local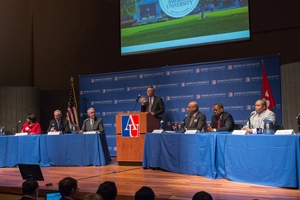 The Kennedy Political Union, a non-partisan, student-run lecture series, has brought an impressive array of speakers to American University. On February 12th in the Katzen Arts Center, they hosted another engaging event, with six candidates facing off in a D.C. Democratic mayoral debate in advance of the April primary.
Points of Contention
Moderated by veteran journalist Tom Sherwood, the debate touched on everything from marijuana decriminalization to red-light traffic cameras to D.C.'s building height restrictions.
Of all the candidates, D.C. City Councilmember Tommy Wells was most aggressive in attacking incumbent Mayor Vincent Gray, who was not in attendance. "I'm running to end D.C.'s culture of corruption in our government. Three councilmembers indicted, three councilmembers admonished by the board of ethics for breaking the rules, a mayor under investigation by the F.B.I. and the U.S. attorney," he said (Gray has been plagued by a campaign finance scandal surrounding his 2010 mayoral run). Wells also touted himself as the only candidate not taking money from corporations.
Arguing for robust enforcement and disclosure, D.C. City Councilmember Jack Evans said the recent malfeasance in city government happened despite strong campaign finance laws in the District of Columbia.
But former State Department official Reta Lewis sounded a different note. "No one believes that D.C. has strong laws as it relates to campaign finance reform. Do you believe it?" she asked the audience.
After Sherwood asked if there was a "War on Cars," some candidates sharply criticized the current utilization of red-light cameras. "There should be a moratorium on the cameras," said D.C. Councilmember Vincent Orange. "You're using these cameras to balance the budget. Generating $85 million dollars off of cameras is just not right."
The candidates also fielded a question about the stalled D.C. statehood movement. "The reason statehood is always blocked is because our delegations from Virginia and Maryland oppose it. And they oppose it for the reason that if the District became a state, the concern is we would levy a commuter tax—which we probably would," Evans said. He promised to sit down with the governors of Virginia and Maryland to address their concerns. Wells pledged to ask the president to form a commission on D.C. voting rights.
Busboys and Poets restaurateur Andy Shallal distanced himself from the city councilmembers on the panel and reinforced his image as an outsider. "All the people that are running have a combined experience of about 60 years. They made promises many, many times," he said. "I am the only person in this race that has actually created jobs."
In a lighthearted moment, Sherwood asked if the candidates would support giving free metro passes to college students. Some of the candidates were noncommittal, but Evans drew from personal experience. "I am the father of six children, five of whom are either in or about to go into college. So I would support, absolutely, free metro passes!...I want free tuition at all universities!" he joked, drawing laughter from the audience.
AU Connections
Besides the setting, there were a number of AU connections to this mayoral debate. One of the candidates, Lewis, has a master's in the administration of justice from AU. "As a fellow Eagle, I am just delighted to be back here on campus," she said in her opening statement.
In addition, AU students and alumni have gotten involved with some of the mayoral campaigns.
Bob Schlehuber, who earned a master's degree in international peace and conflict resolution from the School of International Service, is now working on the Andy Shallal for Mayor campaign. Traditionally, he didn't see himself as a political junkie. "I'm more of an activist or an entrepreneur and an artist, which is similar to Andy. That's his base. He's not a career politician," he said.
Dash Radosti, part of the three-year bachelor's degree Politics, Policy, and Law Scholars program in the School of Public Affairs, is now a volunteer for mayoral hopeful Wells.
"I met Tommy Wells at the Ward 3 Democrats' Christmas party. He was very generous with his time. We spoke for about 10-15 minutes. He shared his vision for the city, and I really liked what I heard," Radosti said. "Since I'm going to be in D.C. for the next few years, I feel obligated to give back to the community."
Also helping out on the Wells campaign is Nicole Goines, an AU political science and communications major.
Wells has spoken at AU a number of times. "The students come here, they care and have some knowledge about politics," he said in an interview before the event. "I think that there are people here that are truly interested in the idea of civic involvement."
One of the students in attendance, junior Sharon Burk, echoed that sentiment. "I think it's just exciting that we were able to host it. For AU, these are like our sporting events," she joked.
Closer to Home
Despite a politically-engaged campus, many students are more inclined towards national and international politics. And in the process of establishing new residency, they may not be registered to vote in D.C. Yet this event showed active local engagement.
Goines is a D.C. native, and she mounted an unsuccessful campaign for the Advisory Neighborhood Commission in 2012. She plans to pursue a career in electoral politics.
Senior Josh Halpren is a CLEG (Communications, Law, Economics and Government) and secondary education major. Last semester, he taught at Oyster-Adams Bilingual School in Adams Morgan, and he wants to continue teaching in D.C. schools. "In D.C., we have mayoral control of the schools. So whoever is the next mayor is going to either keep the current chancellor or appoint a new chancellor. And that changes what my job looks like tenfold," he said. Consequently, he's taken an interest in D.C. governance: "You kind of have to. It's just a way of life."