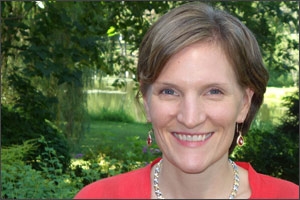 Cynthia Miller-Idriss looks at education and sees so much more than textbooks and tests. For this professor who joins the College's School of Education, Teaching, and Health this year as director of the International Training and Education Program (ITEP), it's all about societies as a whole.  
Miller-Idriss comes to AU after serving 10 years on the faculty of New York University's Steinhardt School of Culture, Education, and Human Development, where she most recently was an associate professor of international education and educational sociology. Her work focuses on nationalism and national identity, right-wing extremism and Neo-Nazism, and the internationalization of higher education in the United States. 
"International education is truly a growing and multidisciplinary field," says Miller-Idriss. "Students in our master's program are studying in order to, later, develop and coordinate study abroad programs; improve education in the developing world; or understand the global aspects of education domestically. We draw on a range of disciplines, combining education, sociology, political science, history, and other fields to help students better understand the various global dynamics related to education today."
A study abroad program first got Miller-Idriss interested in international education. As an undergraduate, she spent a year studying sociology and education at the University of Hamburg in Germany, where she became hooked on the country and on comparing worldwide educational systems.  
"There is fascinating variation in how educational systems are structured and in the kinds of content deemed most important to teach young people," says Miller-Idriss. "The way a country approaches education can tell us a lot about that country's own national narratives as well as their international concerns."  
Although she joins the College's faculty this semester, Miller-Idriss, true to her calling, won't be anywhere near the AU campus. As a fellow at the University of Cologne's Morphomata International Center for Advanced Studies, Miller-Idriss will be spending her first year as ITEP director in Germany, where she plans to write a book on right-wing extremism in Germany.  
"It's definitely going to be challenging," says Miller-Idriss. "But whether I'm on campus or across the world, I am ready to get started on the work of running this program." 
"Germany's historical issues with right-wing extremism create a unique sensitivity to right-wing symbols in Germany to this day," says Miller-Idriss. "Many of these symbols have been banned, just as educators ban certain symbols in the U.S., and young people are working around the bans by modifying and creating new symbols. I am trying to better understand what the symbols mean to youth and whether the bans are effective as a deterrent to far right-wing youth engagement." 
Joining an established program, Miller-Idriss understands the importance of listening to students and faculty about their experiences to give them the guidance and leadership they need to succeed. She hopes to engage current ITEP students, alumni, and faculty, as well as experts in the field, in discussions about the program's future.  
"It is important for programmatic changes to be responsive to the changing needs and goals of our students and of the work force they will enter."  
AU's array of programs and faculty focused on global education makes Miller-Idriss's goal of creating partnerships across the university's schools key to her plans. Starting in spring 2014, Miller-Idriss will launch a regular Global Education Forum, which will bring speakers to campus to discuss pressing issues in education around the world. She hopes that this forum will attract co-sponsorships from other schools and programs.  
"It's important for students to hear from leading experts in the field," says Miller-Idriss, "so they can better envision their role in it and think about how to take advantage of the incredible opportunities to learn at AU."  
"Education is something that everyone can relate to, but not everyone realizes how much the global dimensions of education are increasingly a part of every individual's life experience," she says.  
"Whether it is understanding different cultures overseas or how the increased pace of globalization will affect their everyday lives at home, students will need to grapple with these issues in the world they will enter. By working across the university and strengthening linkages between AU and global experts outside the university, I hope to prepare our ITEP students to be the next leaders in the field."