Government & Politics
Human Rights Conference Draws on Experts across AU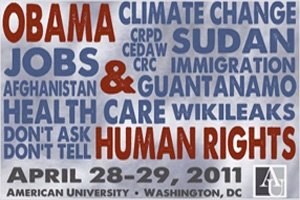 From Egypt to Arizona to Guantanamo Bay, human rights wonks had plenty to talk about at American University's Obama Administration and Human Rights Conference, April 28-29.
Convened by the president, provost, and deans, the conference was a university-wide effort, that drew on faculty expertise and reflected AU's deep commitment to human rights. The university boasts more than 150 faculty members who teach, research, and write about human rights, and last year, AU offered more than 175 human rights classes.
"Human rights [is] one of the signature and defining intellectual areas that links our entire community," said Provost Scott Bass. "Within each of the six schools and colleges, AU has tremendous bench strength of existing focus on human rights and humanitarian law."
The two-day conference examined what the Obama administration has accomplished around human rights at home and abroad during its first two years. The event featured 20 panels and four plenary sessions on everything from environmental justice and reproductive rights to immigration and national security. The 53 speakers included government officials, civil society leaders, and academics.
Following is a sampling of some of the sessions; video of all panels is available on the provost's Web site.


Immigration and the American Dream
Thursday, April 28, 2011

One year after Arizona adopted the broadest and strictest anti-illegal immigration measure in recent American history, SB 1070 is proving to be "expensive and unproductive," said Angel Kelley, vice president of immigration policy and advocacy, Center for American Progress.

According to Kelley, the bill, which requires immigrants to register with the U.S. government and to carry that documentation at all times, resulted in $217 million in lost revenue within the first six months. "That's a lot of money left on the table when state economies are so fragile," she said. "The [lesson] is: if you pile on local enforcement measures, they cost a lot and they don't stop illegal immigration.

"States are grappling with a broken immigration system," Kelley continued. And if comprehensive immigration reform is to become a reality, "federal lawmakers need to approach this issue sensibly."

Alan Kraut, American University history professor,  agreed that politicians need to "dissipate the fear" around immigration "and stand tall on the issue."
Anti-immigration groups — like those that spearheaded Arizona's 1070 — are small but powerful coalitions that "nourish themselves on a much broader fear of the foreign born."

"There needs to be a narrative that counters that fear, and that will be the underpinning for those who want reform," said Kraut, whose research focuses on U.S. immigration and ethnic history. "The human rights vocabulary offers us a language for something we haven't been able to do before: talking about immigration in a nonpolitical, humanistic way."

Sarah Paoletti, director, University of Pennsylvania Clinic on Transnational Migration, added that comprehensive immigration reform should be comprehensive in its scope, touching on health care, education, trade policy, and more.

"The discussion can't start with enforcement. If our starting position is that we can't give any rights to people without legal status, that's a very hard place to start from."


Economic Crisis and Human Rights
Friday, April 29, 2011

At a workshop considering the global reach of the Obama administration's human rights commitments, Radhika Balakrishnan, executive director for Rutgers' Center for Women's Global Leadership, summarized repeated themes with a specific question: "In whose interest is the government working?"
The answer is, in many ways, those who already hold power and wealth.

Balakrishnan asserted that it is the government's responsibility to protect, and with weak financial regulations and failures to defend the right to work, the administration has an uphill battle ahead. As Balakrishnan explained, "there's four people looking for every job available," so improving job numbers does not necessarily portend economic rebound. People are simply working two to three jobs in order to survive. The poor are getting poorer, while the richest 0.01 percent's resources have skyrocketed.

Thandabantu Iverson, lecturer and coordinator for Indiana University Northwest's Labor Studies Program, said Obama's human rights record is better than that of George W. Bush — if only by degrees and with sporadic improvements.

Iverson said pointedly, candidate Obama promised he would walk picket lines to protect collective bargaining rights, however, "President Obama either could not find his voice or his shoes as state legislators used Draconian methods to attack those rights."

Maria Foscarinis, executive director, National Law Center for Homelessness and Poverty, was less critical noting Obama's legislative successes: $1.5 billion in stimulus funds for the Homelessness Prevention and Rapid Re-Housing Program, which helped those on the brink of losing homes save them and re-house those who'd lost them. When 40 percent of all foreclosure evictions impact renters, the administration helped push through the Protecting Tenants at Foreclosure Act.

Yet the crisis is far from over. Homelessness among school children increased 41 percent from 2008-2010. More than 6 million people are doubling up on housing with others because they cannot afford their own shelter.

Ellen Dorsey, executive director, Wallace Global Fund, remarked that international economic priorities are likewise tied to the world financial crisis, as well as climate change issues that will alter and limit access to food and water, particularly for those already in the deepest poverty and in geographically vulnerable areas.
The Obama Administration and Human Rights at Home and Abroad
Friday, April 29, 2011

At the luncheon plenary session panelists offered a wide-ranging assessment of the president's human rights record.

"It was hard not to get caught up in the rhetoric of candidate Obama," said Adotei Akwei, Amnesty International USA's managing director for government relations. "He won the Nobel Prize before he did anything. We all thought this was going to be an administration that was transformative. Obviously, we were [mistaken]."

Not closing the Guantanamo Bay prison facility and the continued use of predator drones that target insurgents but often injure or kill innocent civilians are among the most egregious missteps, he said.

"Specifically, what we want to see is an executive order that establishes an inter-agency working group on human rights," said Lisa Crooms, steering committee chair of Bringing Human Rights Home.

The president did receive some praise.

ACLU executive director Anthony Romero noted that "Obama stood up to Speaker [John} Boehner in saying Planned Parenthood is not up for debate in this budget [battle] . . . That is courageous."

Romero also credited Obama with putting a stop to the "utter lawlessness of the last eight years."

"We in the human rights community see human rights issues much differently than those in the political process," he said. "I was always taught that they were nonnegotiable. You couldn't have some right to free speech, you couldn't have some right to freedom of assembly. You either had it or you didn't."